When it comes down to the letters I'm using, I have to admit that I'm going with my gut on a day-to-day basis. The letter for today was one that I thought I had settled. I had in mind ditches. I know, it's not a glamorous word but having lived in areas that are rain-fed most of my life, I have been accustomed to the need to get water off a field and in a place where it can continue to feed the groundwater table.
Then, one of my friends who knows a lot about water-holding capacity since her husband is a rice farmer suggested debt be the word of the day. She stopped me in my tracks. I hadn't thought of that one at all. And it is something that every farmer I know has to deal with whether they are small or large and no matter what production practices they employ.
Why do farms incur debt?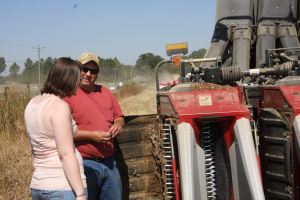 Most farmers operate like other small businesses by creating a business entity to track expenses, investments, taxes, etc. Investments can be taking on additional land, replacing equipment or buildings, etc no matter what kind of farm it is, there tends to be some amount of debt incurred. Like other businesses, incurring this debt takes detailed conversations with a banker and reviewing the debt to assets ratio to decide if the risk is a good one.
For instance, to harvest cotton, most cotton farmers purchase a cotton picker — the latest, greatest can be $600-700k. That's an enormous investment, but what would be other options? I mean, its clear that Americans don't want to go into cotton fields to harvest a crop. There are custom cotton picking services that start in South Texas or some other early harvest area and work their way north. That works well for some farms but that also has a risk in that the staging depends on additional factors out of the farmer's control and weather can throw enough of a wrench into things. The EPA describes this saying:
It is often puzzling to non-farmers to see expensive equipment stored in sheds and/or sitting idle for months at a time. Why would a farmer invest $300,000 in a large combine only to use it for four weeks out of the year? How could a farmer possibly justify spending upwards of $200,000 for a tractor that is used for little else but tillage? The simple, but important, answer is TIMELINESS. Crops are biological "products" that produce optimum yields only when planting and harvest operations can be performed within relatively small windows of time. For instance, the optimum harvest window for corn in Eastern Illinois is only 30 days long and for wheat in Kansas the harvest window is only 10 to 14 days. This requires the use of large equipment that is used very intensively for relatively short periods of time.  via Economic Overview | Ag 101 | Agriculture | US EPA.
Other Investments Farms Make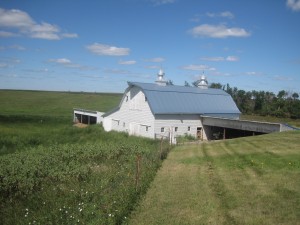 Land is another expense that tends to be big. This is especially a tough one for beginning farmers. As someone who bought a home in the last few years, this one seems intuitive for me. I mean, I couldn't start out a home owner, so I rented places to live for a while. A lot of the farmers I know also lease land, many have a combination of purchased & leased. But how expensive is it to buy land? Depending on the crop mix, land per acre can range in costs dramatically but the USDA 2012 report Agricultural Land Values Highlights says the average values are:
The United States farm real estate value, a measurement of the value of all land and buildings on farms, averaged $2,650 per acre for 2012, up 10.9 percent from revised 2011 values. Regional changes in the average value of farm real estate ranged from a 26.7 percent increase in the Northern Plains region to a 4.1 percent decline in the Southeast region. The highest farm real estate values were in the Cornbelt region at $5,560 per acre. The Mountain region had the lowest farm real estate value at $974 per acre.

The United States cropland value increased by $450 per acre (14.5 percent) to $3,550 per acre. In the Northern Plains and Corn Belt regions, the average cropland value increased 30.4 and 18.5 percent, respectively, from the previous year. However, in the Southeast region, cropland values decreased by 3.8 percent.
Farmers also have to consider irrigation, barns, livestock and then all the annual expenses like seed, fuel, livestock feed, etc. My friend Val's written a post about some of the typical expenses in her area and the way those take a bite out of the revenue the farm generates.
Something that stands out for me reading her post was how big the numbers can seem — you hear the price and yield of corn or soybeans, and multiply those on hundreds of acres. Those numbers get pretty big and it's easy to get the impression that farmers may have a tendency to be wealthy. However, the vast majority of farmers I've met, once they have met all their costs (direct and indirect), they have numbers left that on good years like like good salaries and on bad years look like bad salaries. Sounds risky for someone like me who likes a regular paycheck! 
Other Perspectives on Farm Debt
I decided to touch base with a couple of friends who farm and they all encouraged me to keep the A to Z going. They agreed debt is part of most farm operations and I asked if I could share a few of the things they told me.
Michelle Aavang of Willow Lea Stock Farm said "go broader about the business/financial aspects. For example, the big outlay of capital upfront for inputs that requires working capital or an operating loan, which in turn necessitates a good relationship with the banker and all of the accounting/reporting that goes along with that. Not to mention the financial risk of large capital investments like land or machinery."
Carrie Mess aka DairyCarrie and her husband Pat just rejoined the family farm as his parents are looking to retire in the future. She points out "We would have to go millions of dollars into debt to buy out my inlaws outright."
Emily Zweber of Zweber Farms reminded me "even though crop prices are high, that doesn't mean all farmers are rolling in the dough. Some farmers have to buy those high priced crops to feed animals."
Dana Judice of Hey Hungry People says: Debt is a huge part of farming, especially in the beginning and during hard years. If you want data from us, knowing our crazy story, just let me know!
Marie Bowers of Oregon Green says:  "As a former banker the problem is each operation is different on how they carry debt and what is an acceptable level. For example a ranch typically sells there calf crop one time a year and while a specialty seed farmer may have multiple year inventory on hand. If they would have an operating loan the rancher would be expected to pay it off when calves are sold while a farmer who carried inventory might not have too. As for real estate I would imagine most lenders have the same-ish standards."
E is for….
Tomorrow (Friday) is the day for the letter "E" so what do you think the word of the day should be? (Thanks to Thomas & Kim for giving me ideas for every letter in the alphabet!) I'll do F on Saturday and then take a break Sunday…. so please feel free to critique the project so far. 🙂
See the other posts in this series by clicking on the logo at right and reviewing the letters, or by browsing the A to Z ag tag archives. You should also feel free to add ideas for upcoming letters!