This morning my head is still on the couple of commercials that calmed the noise last night. I have to admit, this year I didn't have a team in the Super Bowl. And that meant the half-time show and commercials were front and center for me and they didn't disappoint! They even prompted me to write a post on how great it was to see farmers take center stage at the Super Bowl.
With a good night's sleep, it became clear that the ads that stood out last night fell into two very different camps. There were ads like GoDaddy which everything I saw was negative — I didn't see a single tweet saying it was a good ad. And then there were the ads that took you out of the game and hype for a few minutes and made you think about people who really go above and beyond in their job. Both of these ads were quiet in a noise-filled environment. They both showed an incredible quiet strength too, just like the people they honor are strong and not boastful so many times.
Dodge Salutes "So God Made a Farmer"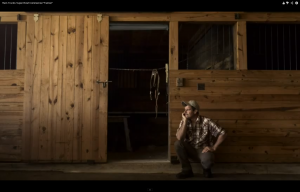 As I wrote last night, this ad came on and Paul Harvey said "So God Made a Farmer" and it demanded my full attention. The I soon started searching for the video. As I searched for video, blogger friends Mimi Baker in Minnesota and Mack Collier in Alabama (yes, the one who is a SM Super Hero), my high school friend Lenny and others started making sure I saw the ad. What I didn't know last night was the same buzz was happening all over the country.
Farmer friends who are active on social media were inundated by tweets, IMs, Facebook posts, etc. and all of them were thankful.
For farmers to become a topic of Super Bowl buzz…. well I have to say, that was incredible.
You expect Danica Patrick to get buzz with kissing a nerd in a GoDaddy ad and you know some companies value any buzz, good or bad as it equals name recognition. But Dodge Trucks put their 2 minutes of major ad money to highlight farmers saying "So God Made a Farmer." It was the kind of recognition that immediately brought many Dodge trucks on the farm to mind for me.
"The Today" show sat there this morning talking about the contrast of it. The fact that the commercial didn't seem to go for much of a sell. They thought it was really done
Something else to think about is that Dodge paired their ad with a donation to the National FFA Foundation (some people remember it as Future Farmers of America) to support the organization's hunger initiative "Feeding the World – Starting at Home."  I was excited to see that my friend Jeri, a former FFA officer said the campaign will donate up to $1,000,000 to the Foundation based on the views of the video and activity on the website. Please take time to go to this site, view the video and recommend it to others.
Jeep Salutes the Military
As a long-time Jeep owner, this is the ad that stopped me in my tracks during the first half. Oprah Winfrey says "We wait. We hope. We Pray" as she talks about military personnel. And the way people at home wait, hope & pray. I thought it was really well done though some have suggested the images of Jeep were a bit too commercial. Here's that ad.
You really should give it a listen. I now know Jeep has had a special campaign to honor America's military and to encourage people to share their stories.
It made me proud to have been a long-time Jeep owner and I know at least one farmer felt the same as Luv Hahn who's family has a dairy in Ohio.
My Take-Away?
I have to say, being quiet and talking about things that matter would be a great direction for ads to head and last night showed that the top ads shown during the top TV event of the year. It would be something I could definitely get behind. And next? Perhaps we could get the news media to talk about things that are really important even if they don't have a sensational component.
Related articles