Well, I guess I have gotten pretty busy because not only did I fail to post week five's photos on the blog, but I didn't even realize I had missed it for several days! So this post includes the first two weeks of February in one post! There is quite a combination of things going on here — from enjoying time in St. Louis with friends, to visiting friends in other parts of the US and simply taking in the sights while traveling. There are also a few things from home.
February 1 — Priscilla 33 / 365
I took several different photos today at various points of the day and while I think some of the others may be artistically more solid, I decided to use this photo from my iPhone because I like the idea of pulling out the event for me to remember.Tonight, three girl friends and I went to see the Broadway musical "
Priscilla Queen of the Desert
." We had a great time — both at my house ahead of the show and at the theater. We don't get together nearly enough and by reminding myself as I look through my project, I feel certain I will remind myself to get this sort of thing scheduled more often.I also like the photo, with the carved historic ceiling over our seats contrasting with the neon looking map of Australia on the stage curtain.
February 2 — Ice skating with her BFF 33 / 365
Tonight I had the opportunity to take two 10-year-old girls to the ice rink. Jess' dad was a good friend of mine and we all miss him. She's been wanting to go ice skating for a while and her mom told me Friday so I knew we needed to get this one done.It was a great time for all of us. I remembered how silly 10-year-old girls can be, how much chatting & giggling they bring. And in the midst of the fun & games, we occasionally brought up memories of her dad. She got to be a good ice skater while they lived in Beijing.After ice skating we had ice cream. And having dropped her friend off, Jess said this was the best night in years! The laughter and good times felt great for all of us.
February 3 — Love U 34 / 365
Wanted to see if I could get light on the lettering of this SweeTart Heart. Did okay but with the way it is rounded, I had trouble capturing the "E" very well but otherwise I'm happy with where I got to on it. Oh, and I got to eat the candy later!
February 4 — Dinner by Gerard Craft 35 / 365
Tonight I had a dear friend in town that I hadn't seen in more than a year. Since we both really enjoy good food, I decided we'd meet at one of
Chef Gerard Craft's restaurants – Pastaria
. The food was incredible but I also found the space amazing. Love the openness of the kitchen and how it appeared as though it was the source of such great light!The photo was snapped on my iPhone and I ran a dark red filter over it to get the tones closer to what I saw there.
February 5 — Talking Steak 36 / 365
(Traveling week makes uploads a challenge. Will try to do better.) Trudy Cooper (left) is one of the founders of the restaurant chain
Outback Steakhouse
(and its sister restaurants Carrabas, Flemings, Bone Fish and Roy's). She talked with the
American National CattleWomen Foundation
last night about the role American farmers and ranchers play in the success of their business.I was there to congratulate the five students who were selected as
Beef Ambassadors
. They will travel throughout the year for various events, learning about and promoting beef.After the event, some of us were visiting about Cooper's experiences growing up on a Missouri farm and I stepped back to take this photo. Really love the way everyone is engaged in the conversation.
February 6 — Boots on the Beach 37 / 365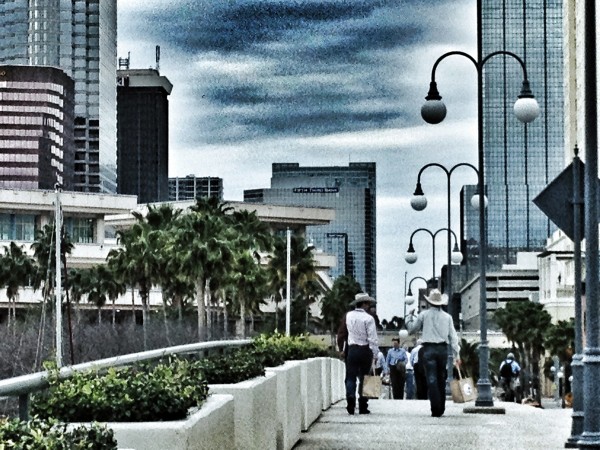 As I walked to the convention center today, I was caught taking in the sights… Cowboys in boots & Wranglers against the Tampa skyline & palm trees. Somehow the image stood out all day. Probably not your typical scene in Tampa Bay but with 7,000 cowboys, cowgirls & folks who work with them, it is constant this week!It gave me a chance to use one of my new apps found thanks to the 365 iPhonographers….. I used Snapseed to make it more dramatic.
February 7 — Shaping a Cowboy Hat 38 / 365
When you go to a tradeshow that's home to a crowd of cowboys and cowgirls, you are certain to see hats and boots! One of the regular faces is Trent of
Greeley Hat Works
. Trent sells a variety of hats and spends time shaping each one he sells to the specifics of the customer. Some like a flat rim, some like it squared off and other like them rounded. A lot depends on where you live (how windy & sunny it is) and personal preference.I love that he has white and black hats available and in the photo you can see a bunch in the background!
February 8 — Phoenix Patio Time 39 / 365
I made it to Phoenix tonight and after a bite of dinner, joined friends on the patio. The resort seemed to jump out of the dark night thanks to the lighting on the building and trees. With the contrast, patterns became clear – both natural and man-made.
February 9 — Arizona Sunset 40 / 365
This is an early sunset photo from yesterday…. The sun was so incredibly hot and I was amazed how it lit up the chairs in the foreground. (Got brightly colored painted skies later but this seemed so different that it stood out.)I ran it through Snapseed to make it a bit more dramatic.
February 10 — Paradise in Full Sun 41 / 365

Taking in views like this for a week is going to make returning to reality come with a crash, but I am enjoying it while I can!This is a straightforward shot from my iPhone. No filters or edits, just a gorgeous day in a beautiful place!
February 11 — A Sticky Situation 42 / 365
Before I left Arizona, I decided I had to stop and take photos of a prickly pear cactus (afterall, it gives me the fruity goodness for my favorite margaritas — remember this photo?http://365project.org/jplovescotton/365/2013-01-09).There were several in the area but all seemed a bit too beat up to be the focus and besides, the blue sky was gorgeous.I played with the photo in Snapseed, tweaking the color to be sure the pinkness was clear among the greens and blues. 🙂
February 12 — Drinks with Dear Friends 43 / 365
After a week on the road at conferences, the sofa could have been calling me home to relax BUT some dear friends that I used to have dinner with several times a week were in town and I was WAY overdue for a visit!Geeta and I had a great dinner and then met the others at their hotel for a drink…. or for a couple of hours of storytelling. :-)We were in a really dark corner so I thought this may be a day where I just post something taken earlier but once the drinks arrived and I saw how the light played on them, I knew it would be possible to get a shot I was happy with. Love that you can just barely make Albert's face out in the background.
February 13 — Shiva Protect Us 44 / 365
I have been wondering when I would photograph the Shiva statue that watches over my home. Today seemed the right time.The statue sits in a built-in brick shelf that's part of the fireplace. It is painted white and I decided it was a perfect shot with a diffuser and the flash angled up to get a shadow cast on the bricks.I bought it while in India a few years ago. I was in the process of moving and understand that Shiva offers protective powers. We had quite a lengthy time apart as my luggage traveled solo for a while but having Shiva in the bag gave me a great plea for the 800 operators.Tried the shots in black and white but preferred the simplicity the antique metal offered in color.
February 14 — Chocolate Covered Goodness 45 / 365
Yum! The farmer's market that delivers weekly to the office sent an email the other day about a special for Valentine's Day — chocolate-covered strawberries! Seemed like a great excuse to order myself some just so I could take photos!
I enjoyed taking a series of photos but have to think I may have enjoyed eating the berries a bit more. :-)In the end, the photo I liked best is this one with me holding a strawberry in front of the box, seeing the foil wrapper emptied for the fruit in-hand. Also like that the strawberry is so perfectly ripe you can see the juice on my hand! I left the photo unedited.
More of 365 Project
You can see the other 365 project posts here on the blog to get more information about a photo in the above video if you'd like (all the posts here have a 365 project tag on them). by looking at the posts that that tag. You can also see them through my account at 365project.org/JPlovesCOTTON or in this album on Google +.
Related articles