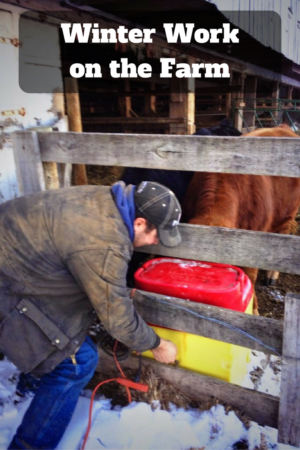 Wow it has gotten cold here, once in out of the frigid temperatures outside (still surviving the cold for now). I recently cracked open my iPad, opened Quora and saw the question What do farmers do during the winter? I had to answer it in part because I remember a time when I assumed farmers were kicked back all winter. I have learned a lot since then! 
There are so many different types of farmers and there are a variety of different jobs that have to get done in the winter months so, depending on the farmer, they could be busy with any of the following:
Data review and decision-making — A lot of farmers today have extensive records they keep on the crops/livestock they grow, yield, expenses, etc. Analyzing this data and looking at data from a variety of other sources (extension programs, seed companies, marketing services, brokers, etc) is one critical piece of looking forward to the next year's production and deciding what to grow again.
Equipment maintenance — Breaking down equipment for major overhauls in the off-season is one way farmers make sure planters, combines, etc are ready for another season of intense use.
Care for livestock — Lots of farmers have livestock to tend year round. That means chores like feeding and insuring water availability, checking health, etc. There are also pregnancies to track, papers to file, etc.
Tend winter crops — Depending on the area farmers live in, they may have crops they crow over the year.

A really common crop across much of the US is wheat that gets planted in the fall and is looked at for fertility, growth, pests, etc until it is harvested in early spring.
More farmers are also now planting cover crops too. Cover crops are usually chosen because the different root structures, the nutrients they can leave in the soil.
For farmers in more moderate climates they may have vegetable crops they are growing. A friend in New Mexico plants something every month!
Some friends of mine actually have to work in their woods putting taps on their maple trees, putting out buckets, etc to get the maple syrup made!

Financial planning / crop marketing — A lot of the winter months are spent looking at market trends, pricing structures, crop demand, current loan packages, insurance policies, etc. There's a lot of business to get done. For some farmers this will mean loading trucks and taking them for delivery.
Touching base with others — There are lots of winter meetings for farmers — local, regional, national — to talk through the latest technologies, the horizon for politics, new crops to consider, process for transitioning ownership to younger generations, etc. There are also lots of opportunities to grab a cup of coffee at the local co-op and hear a tale or two.
Time being regular people — And of course they do a million other things the rest of us are busy doing — shoveling snow, making snowmen, skiing, celebrating holidays, hunting or fishing, taking family vacations to get into the sun a bit.
I'm sure I missed some things…. but I think it is clear that farmers aren't just goofing off all winter!