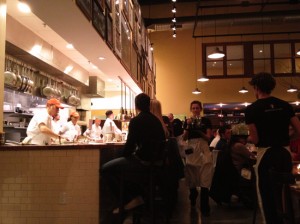 Have you ever sat at the chef's table at a restaurant? You know, either a table in or bar that allows you access to the kitchen. Every time I go to Pastaria with a friend or two, I hope I'll be seated there (bigger groups are really more convenient to visit at a regular table). But have to admit, I am usually so hungry from the yummy smells coming out of the kitchen that I agree to first available seating!
Well, Wednesday night I met up with fellow blogger and Memphis native Danielle Lee of The Urban Scientist for dinner there, knowing we would be able to choose between menu items from both Pastaria and Memphis' Hog & Hominy! I knew we were in for great food, but we also learned a lot by sitting at the chef's table!
Hog and Hominy
The past fall, some friends and I were in Pastaria and as I introduced them to chef Gerard Craft, his ears perked up hearing my nephew lives in Memphis. He immediately asked if we go to Hog & Hominy. Sadly I hadn't (in my defense, it opened after I moved to Memphis and we have so many great food options when I am in town).
I made a mental note of it and put it on my Christmas trip to do list. Later I realized that it was a restaurant that led friends and major magazines to rant and rave about how it was a must. And of course, I announced to the Twitterverse I was there!
Am at @hogandhominy for lunch…. Wanted to be sure @GerardFCraft knew it is starting off well

— Janice Person (@JPlovesCOTTON) December 26, 2013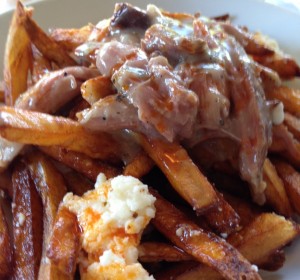 My niece Alicia and I ordered the poutine as an appetizer and I proceeded to think I have found the holy grail and maybe I should have ordered an entree-sized order! In case you don't know poutine, it is a Canadian dish and the Hog & Hominy version not only includes the fries, gravy (a neckbone gravy to be exact) and cheese curds but there is a bit of zing with chili oil! I mean just look at it!
Alicia ordered a sandwich — check out he description of it from the lunch menu: OL' ELSIE* | smoked brisket, cheddar, arugula, piquillo peppers, sun-dried tomato-horseradish pesto. And I decided to order one of their wood-fired pizzas: THE BRASSICA | smoked guanciale, fire-roasted broccoli, garlic, tomato sauce, mozzarella. They both tasted as good as they sounded too! Check them out.
Our only regret was we didn't have more room for more of the great food and desserts we saw here. So when Gerard tweeted me saying they would be doing a takeover of the Pastaria kitchen, I put it on my calendar!
Lessons in the Kitchen
I felt like we won the lottery when they showed Danielle & I to the chef's table. We were on the end where they were making pizzas. As the waitress gave us the two menus and explained the Hog & Hominy takeover, we watched people move around the kitchen. We poured through both menus as we watched people from both teams make pizza — the Pastaria crew in white and the Hog & Hominy folks in colors.
The food was awesome as you would expect, but last night something different really grabbed us.
Usually the chef's table is a place where you can see almost choreographed movements. As employees who work closely together go about their work anticipating the next need and conversation focuses on the orders coming in and maybe jokes among friends. Hands are rarely still.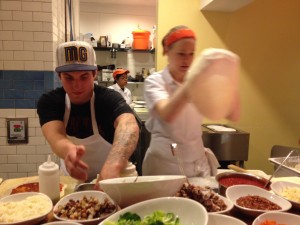 But last night, we sat in front of a couple of people who normally are making pizzas with five hours of highway between them.
You could see the differences on the surface, the way pizza dough was prepared was the first thing that caught my eye. We watched as they discussed the different techniques and kept making pies. There were differences in how they brushed the oil around the crust and even how they put toppings on but every pizza looked great.
And you could tell people were interested in seeing whether they could improve themselves through a simple change or two. The same went for the way the teams kept the oven clean, small differences and an interest in checking out how others do it.
What was interesting to me is while the movements may not have looked as rhythmic as people who work side-by-side daily, the team at Pastaria was still anticipating things, refreshing ingredient bowls before needed, etc. It really was impressive to watch!  And the Memphis team was doing the same on their end.
I think it says something about the leadership they usually have in the kitchen, the way the teams are empowered and the passion they all have for doing well that things moved so smoothly with such a big change underway. So it was especially cool that as Danielle & I got ready to head out, I had a chance to snap a photo of the chefs from Hog & Hominy along with Pastaria's Craft.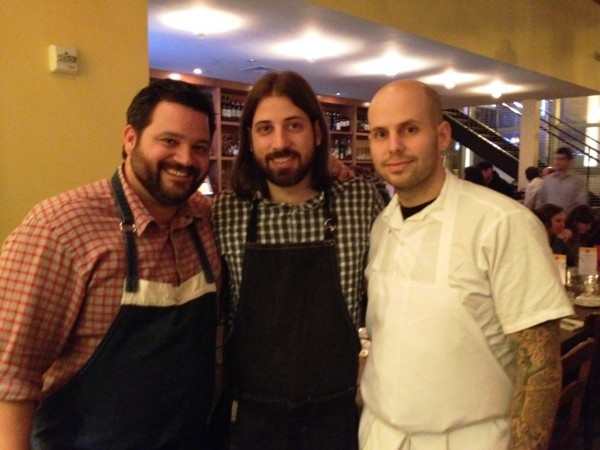 What's something you enjoyed learning from a friend (in the kitchen or elsewhere)?
I have to say, growing skills is an area that I love to put time. There is so much to be learned from people who really excel at something. So whether it is a professional chef or a fellow communicator, I hope that I soak up some of the skills others are willing to share. There are things that I have picked up over time — from tips on how to chop certain foods or to prep for a video that I can attribute to specific people taking the time to explain how they did something.
Sometimes it just takes having the willingness to ask a question and then sit back and watch and learn. Those days are great ones and something I was reminded of as I watched the kitchen. I'm thinking I need to make more of these opportunities for myself and maybe others around me too!
———————-
(Disclaimer — I told myself I had to stop writing blog posts about the awesomeness that is chef Gerard Craft and his restaurants as I will show too many fan cards, but I couldn't help myself! Craft is the guy behind Niche which I discovered thanks to Ellen Malloy & Grant Kessler.  I also posted about a Niche research dinner there and the quality of Arizona wheat. But I swear I eat there without writing about it though I do almost always share photos! 🙂 )
Related articles