We all have these connections to grocery stores that we rarely even think about. Whether you love them or hate them or, like most people, fall somewhere in the middle, we all have some opinion. For me, grocery stores have always been a touchstone of sorts.
You Learn A Lot from a Grocery Visit
I may walk into a store with one or two things to get, but when I am traveling, I have a strange interest to see what is on the shelves in other areas. It's especially strong urge when I'm overseas. You may remember that I wrote about the trip to Japan a few years ago and a quick grocery run in Osaka and thinking about the mangoes that are for gifts. But a quick search of my photos for grocery stores turns up photos from all my big trips.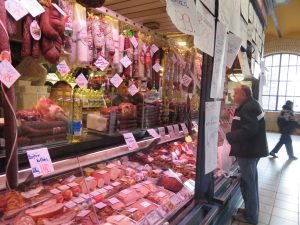 My most recent trip overseas was to Budapest and Prague. While I haven't written about it, I of course went to the grocery store, a bazaar, etc. When you see a case of meats like this one, you know some of the things that a culture really enjoys. I have photos from similar shopping trips in Italy, England, Turkey and more.
Possible Roots of My Fascination
Maybe the fascination came from having my first job that carried a routine schedule and paycheck being at a local grocery store in Memphis. I remember all those weekend hours spent looking at the shelves and hitting the keys on a cash register. I also couldn't help but notice how people would make their choices on what to purchase. And since some of my time was spent stocking shelves, I also had some insight into what flew off the shelf as opposed to the things that didn't move.
This past weekend while I was visiting family and friends in Memphis, I made a quick run to that grocery store. The one that I worked at from the time I turned 16 throughout high school and during college vacations. It still serves the very working class neighborhood it calls home, but the income level seems to have dropped and the combination of cultures has shifted to more Mexican and African American, though it was always diverse.
It is different from my current neighborhood store for sure. I go into it often enough, but this time I thought to snag some photos to share on Facebook. I wanted to share in part because it shows how urban my background is even though a lot of people see me rightly as being so connected to agriculture. And I have to smile as my friends from around the U.S. picked out various photos from the visit to comment on (there is a short slide show below).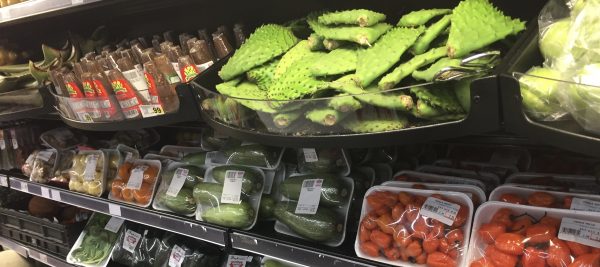 So Common or Rare?
My photos showed the path I took around the grocery store, checking out the produce section and some of the bulk items.
There was produce that some of my friends cherish deeply as it brought back memories of family meals with nopales while others wondered why prickly pear cactus would be mixed alongside produce.
WIth the deep south, multiple kinds of greens are available and seasoning packages in case you don't have the time to cook them down all the way.
And the variety of peppers… it leads to all sorts of food cravings at once!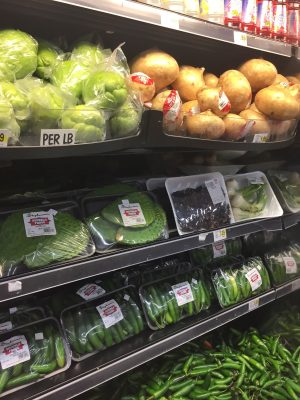 Pinto beans are sold in bulk…. the boxes in the aisle look like the ones we used to sell a ton of soybean seed back in the day.
There were brands and products that you don't see every day in my local grocery store. I had to buy myself some Rap Snacks… I got the Deli Cheddar ones that Fabolous lends his name and likeness to.
the things the store sells that seem unique are some of the basics in the area of Memphis. They don't have fancy cheeses or lots of labels about how the food was produced. Just good food for good hardworking people…. and a few treats too.
What stands out for you? What would grab my attention in your local store?