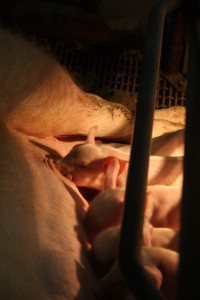 I recently got to take my first trip to a pig farm and I've been looking at the photos and video and trying to decide what my followup post to the one on whether pig farms are stinky. I decided that maybe the barns and thinking about pork were good places to start. And to the eye, the first group of barns I went to, the ones that Chris (my host/friend Chris Chinn aka @ChrisChinn who blogs at ChrisChinn.wordpress.com) kept calling farrowing barns — that's where the baby pigs (ie piglets) are born and kept with the mommas (aka sows) when young.
The Chinn family chooses to use individual pens for the pigs and the ones in the farrowing barn include areas where the piglets can get out from under the mommas' feet too! Some farmers choose to raise pigs outside or use barns different ways.
So what do farrowing barns for pigs look like? Well, at the Chinn's farm, they were dark. The photo below shows the inside of one of the farrowing barns on the left and a sow barn on the right. You can see that the heat lamp the piglets are under in the farrowing barn were really the only lights in there while I was there. I didn't think much about it til we got to some other barns and they had lots of natural light.
When I asked, Chris pointed out that since the sows and piglets were nursing, having the lights down helps keep the focus there. And I swear, it came to me that the mother's room at a lot of places is also dark since that helps provide a calming environment. The light went off…. Chris and her family really think through these decisions and consider what's best for the pigs they raise!
I have to tell you, that eating pork has been a little different since I visited Chris and her family. I'm not shying away from it if that's what you wondered, in fact, I feel more informed and aware. Probably bought a bit more pork too now that I think about it — cooked myself a great porkchop! Having had a chance to see the farm, ask some questions and get some answers, I feel like I can make better decisions.
Another blog post about going to the Chinn's — My First Visit to a Pig Farm – Did it Smell Bad?