As much as I love food and travel, the combination of both of those things is certainly peak experience for me. Because I travel with friends or family who may live local and going solo, it can be totally simple to find small local restaurants abroad at times when a guide who knows me is helping host or it can take more work.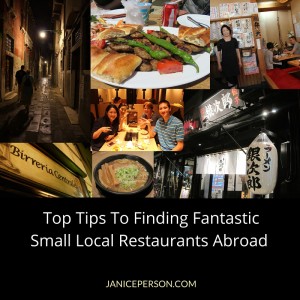 This week, I got a great message through the blog from someone who is traveling in Japan with hopes to see the sumo wrestling tournament (so jealous cause it is so much fun!)  I hope she doesn't mind me putting some of it here:
I too would like to attend Sumo wrestling, because my father did when he was in Japan and said it was an amazing experience. Could you please tell me a few restaurants you'd recommend, hidden gems, etc.
When I first saw it pop up, I wished I could help with hidden gems in Tokyo. I wanted to send her a lit of awesome ramen shops near the temples she may see, the best place for sukiyaki or yakiniku but I have been lucky enough to have local friends help me with most of that during trips there. I felt as a loss on how to reply. Felt at a loss until this morning when I realized I could still share how I would find local restaurants if I was in her spot. So that's where I am.
1. Do Some Homework Before You Travel
I love reading various guide books, blogs, watching videos, etc. Figure out what some of the local dishes are that you absolutely don't want to miss. This is especially important for me when traveling to a place with a food culture that is very different from my day-to-day. Here are a few examples of what you can learn.
Most Americans eat a good bit of Italian-based foods like pizza and pasta, but very few of us know what the specialty of the various areas of Italy. In Venice you can find incredible cioppino and in Milan there are risotto dishes that will make you wonder how you never heard about it.
For many of us in the US, Japanese food is largely either sushi or hibachi. But if you will be going to Japan, you don't want to miss sukiyaki, yakiniku or okinomiyaki and most of those are best when you go to a restaurant that specializes in it. Sort of like you tend to get better steaks at steakhouses in the US.
If you know some of what you want to try, then you will be better ready to find them.
2. Talk to Locals about Small Restaurants
The biggest thing I do is when I travel is talk to locals. It is easiest when you have friends and family living there, but those of you who have met me know I haven't met a stranger. There are people in the hospitality side of things (hotel concierges, etc) whose job it is to help you enjoy the trip. When in Hawaii, I asked the park ranger at a Big Island park for lunch advice. But just asking them where you should eat…. I find they tend to defer to places they know tourists like. Places lots of travelers go. That's not what I want.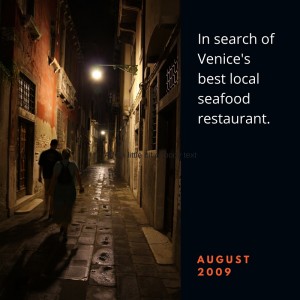 Instead I ask them where they go when they want one of the specific foods you unearthed in your homework, or ask where they may take a first date for dinner or if they were married where would they go for their tenth anniversary dinner.  Those kind of questions keep me from getting tips on where the Hard Rock Cafe is!
In fact, when friends and I were in Venice…. on our last night we talked with one of people at the desk in our small hotel. When we explained that we wanted to celebrate with a really fantastic meal. The kind of place he and his wife would celebrate a major life event where splurging more than normal is ok. We got his favorite restaurant. We walked down some of the smallest alley ways known to man. It was a long way from the hotel but he carefully wrote down the boats to take, the time he'd expect it to take. We were at the point of wondering whether we had missed it when we saw the sign. To this day I remember the wine, the food and the great time we had!
3. Find the Apps that Get Used There
I love using Yelp in the U.S. when I travel. It's rare that I find places friends have eaten that way, but the photos, menus, etc. are amazingly helpful. Same for outside the US. This summer in Turkey I found Trip Advisor was really helpful. I figured that out in part because I had done some of my homework, but I also saw logos for it at lots of restaurants.
4. Look for Crowds on the Small Streets
Finally, we frequently just walk down small streets and see what we stumble on. If there is a good crowd there, chances are the food is good. As you find your table, pay attention to what others have and feel free to ask questions of your waiter based on all of that. If you aren't sure, just order appetizers and try a few things! Some of those restaurants have English or photo menus but others don't. In Japan, you may even find one with an automated ordering system with a ticket machine. It has helped me find several small local restaurants abroad!