I don't do recipes on the blog much — there have been very few here! But today, with the weather, I decided to go for it even though I just published another post about Winter Storm Ion around lunch time. Why the change of heart? I trace it back to red beans and rice!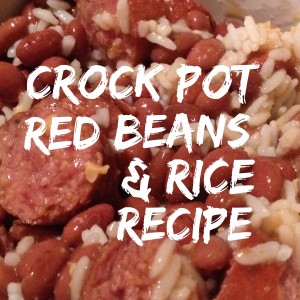 I talk about how I grew up Southern a lot but have to make a disclaimer here. All Southerners are not alike. I'm not sure my mom has ever cooked red beans and rice. And yet I totally love them!
Traveling as much as I do, I developed a taste for them with visits to New Orleans. And you could always get them in Memphis if you wanted, red beans & rice just weren't served at our house every Monday. When I was living in the Delta, Cajun foods were a lot more common. I thrived on them there and got used to them being part of my routine! One weekend when we were all traveling for work a friend's wife mentioned her crock post recipe that uses just a few ingredients.
A few months ago I had a group of girlfriends over & I served red beans and rice. Very few of them had ever eaten the Louisiana specialty but said it looked good. In the end, they all seemed to enjoy the tasty goodness too. And for me, you can keep the sausage in the freezer and red beans in the pantry for a while so I didn't need a trip to the grocery. These are my two favorite snow day recipes!
Easy Crock Pot Red Beans and Rice
I hope Teresa doesn't mind me sharing her recipe! She knows I love it as I have told Keylon several times how much I appreciate it. I didn't have any of the sauces in my house at first and this recipe is about the only time I use them, but it is well worth it and they are fine in the fridge for a while. This makes 4-6 Servings.
Ingredients:
1 Tbsp  Worschestershire Sauce
1 Tbsp A1 Steak Sauce
1 Tbsp Heinz 57
1 – 2 pounds of sausage (I usually use 2 cause I like meat!)
3 cans of red beans (be sure you get red beans, not kidney
Rice (cooked separately, half a cup per serving)
Directions:
Put your sauces in the crock pot first.

Drain the red beans and pour one can into the crock pot. Spread it out so it makes a layer.
Cut the sausage into 1/2 inch to 1 inch pieces. Put half of the sausage in as a layer.

If you only have a little time to dinner, cook til you know its piping hot, otherwise I let mine cook for hours on low. Boil your rice separately or if you are pulling some red beans out of the freezer in a hurry, throw a microwaveable pouch in the microwave!

Snow Cream!
Growing up in Memphis, we didn't get a lot of snow and usually what we did get was really wet. But every now and then, we would get a really dry snow and my mom would make us snow cream. It has been years since either my mom or I have made any but today she got the recipe out for me and YUM! It was awesome! So I had to share the recipe! Serves two or one if its me thinking about how yummy it would be after years and I was right. I got so excited I failed to take pictures of me making it but I grabbed a quick shot of the finished product.
Ingredients:
1 egg
1/4 cup of milk
1/4 cup of sugar
3/4 teaspoon of vanilla
Directions:
Separate the egg and beat the egg white. Add the yolk and other ingredients and mix. start adding snow til it's as thick as you want it.
What are your favorite things to eat on snowy days?