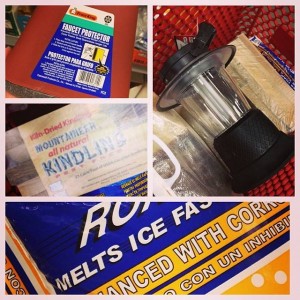 Since I have friends, family & readers all over, I thought I'd do a post on what's happening in my little corner of the world. I'm sure we are making national news, but so far, Al Roker hasn't asked to broadcast from my yard so this is a way for you to know what's happening where I am.
Pre-Storm Prep
As the post Friday pointed out, there is a lot to do in terms of preparing for a major winter storm. The tips from friends who have had more experience with this sort of thing was great information to have in hand as I went out early yesterday to do errands. There were several things on the original list I got to doing early in the day before stores got so crowded.
Fireplace Preparation — I use the gas fireplace in the living room most of the time so prep for it was easy. It had been inspected previously as clear of any blockage or potential problems. But the downstairs fireplace is wood so I wanted to pick up a little kindling and wood just in case. I really don't think I'll use it but if the power goes out, it will be good to have.
Car Prep — Got the tank filled, the car washed (the salt layer was fairly thick and since it was 40 degrees, I went for it!) and Leah and Kelly's enthusiasm for the mitten scraper won me over so I made the impulse buy at the register.
Another Layer — I have been working out more in the past year or two and have to admit being outside wasn't something I did much. I bought some UA Cold Gear running tights that I can generally wear to exercise or as Carolyn suggested a good wicking layer under jeans.
Since I really needed things at the hardware store, I went there early in the day. I was able to park just a few spaces from the lumber door at Lowe's and that put me at the exit where there was no line. It was a quick in and out for me. As I left Lowe's, I saw the line of people trying to get in the Sam's & Walmart parking lots. I was glad I didn't need anything there!
Seriously, traffic was crazy. I haven't ever seen it that bad in St. Louis. The worst traffic I've seen has been isolated in an area for concerts or ballgames, but then you have people taking the metro too. Fellow STL blogger Blaise mentions the terror the city is facing in her post on snow day supplies & activities.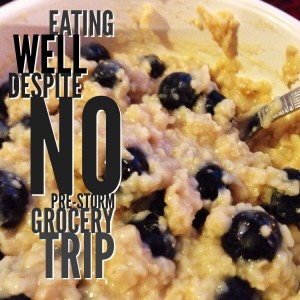 I had considered buying some more fresh fruit and vegetables and maybe a case of water but decided going to the grocery store was not that important. The crowds were so crazy getting to the shopping centers with Target, Trader Joe's & Dierbergs that there would need to be combat pay to get me in there! I had the things I truly needed — the fresh fruit I had would be fine with the frozen fruit and I could fill a couple of things with water. My pantry and freezer are both fairly stocked so I would let the panic shoppers get their bread & milk and I would focus on other things.
Gaps from Friday's Tip List
As I got together my to do list for Saturday, I realized there were a few things we didn't include in Friday's post that would be important. Some of these pieces went to the top of the list for storm prep others were things I thought would be good adds but would wait til I was finished with the critical things.
Covers for outside faucets — Not sure why I haven't gotten these before. I always had some in Memphis as it helps with pipes. This would end up being high priority as I worried they may be in high demand.
Batteries — Flashlights would definitely need these and I have a small pack that can connect to my iPod that I figured could be used to power up my phone. Both of those things would be critical if the power goes out during this storm or some time later on in tornado season. This would be a priority too.
A camp lantern — I've been thinking about buying a camp lantern for a while. Could be useful on the patio in spring & summer or great in the event of a power outage. I kept my eyes open for them and found one at Lowe's when I was picking up the hardware, ice melt, etc. And in a nice twist, it was on clearance.
Cash — Just in case I end up getting a hand digging out, a few bucks cash would be nice to have. Quick trip through the ATM was easy to make.
Game for XBox Kinect — I need to up my aerobic time and did a little research on top aerobic workouts. Decided to get a Zumba gameeven though I've never been good at classes where you have to follow choreography. I can work at it some this weekend and hopefully keep it up.
Massage — This one was a hit when I tweeted about it. It sounds like you'd have to reach to make this part of your storm prep, but circulation is improved through massage and you get that oil or lotion really worked in. Besides, it is a great way to close the day of errands and chores around the house.
A good meal of sushi! — All that fresh protein, there for the taking!
Winter Storm Ion Hits St. Louis
I went to bed just after 1 am and the storm hadn't hit yet, but at some point I got up and look out the window. The snow had started and was putting down the small flakes the National Weather Service told us to expect. The flakes were coming down fast and furiously so it wouldn't take long for it to add up!
Shortly after I got up, I snapped a few photos. I left my table out on the deck so it would give me a clear place to show the snow as it mounts up. It certainly is doing that — check out this photo comparing my view from 9:30 and two hours later!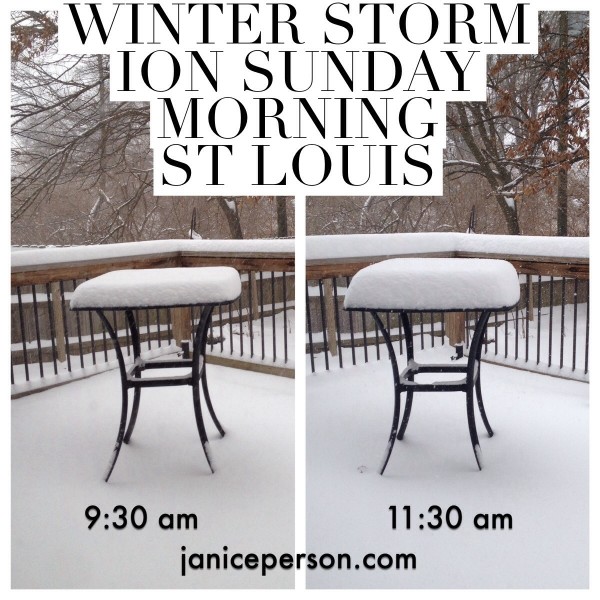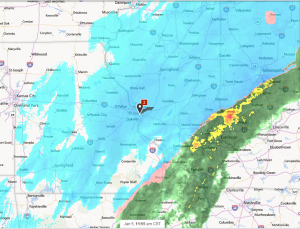 Right now, it is blowing snow but the forecast is for higher winds. My part of town is expected to get close to 10 inches of snow and weather.com says I should expect 5-8 inches to come yet today! And looking at the map, it seems clear the snow is here to stay for a while!
The low tonight is expected to be -9 degrees! That's the forecast temperature but it anyone is crazy enough to go out there, it could feel as cold as 36 below! Winds will be 15-25 miles per hour with gusts up to 35 so it will be wicked!
You can check out the forecast in more detail on the National Weather Service's site for St Louis or weather.com.
Other Bloggers Facing Ion
Since I have a lot of friends who blog, I wanted to make it easy for you to find out what's happening in different areas of the country by including their blog posts on the topic too. I'll get you started then you can check their sites! I've made this a linkup post so others can share their blogs here too and I will be proving an occasional update.
As we prepare for cold weather headed our way, northern friends may chuckle. Some have had wind chills of -70* and ice. But for the south, it's not as common – 20s and 30s are normal winter, but a high of 27* and low of 9, as is predicted early next week, is bone chilling for here.

Keeping water going is an issue. Then there's critters. As it gets closer, fellow animal owners are messaging for cold weather tips. Short of bringing animals in (easier with rabbits than cows!), preparation is key….. Read More
Baby, It's Cold Out There is a Theme in Minnesota
Two farmer friends who blog used the line "Baby it's cold out there" as they titled their blog posts!
Today I awoke to -17 degrees fahrenheit with only a little of that prairie wind blowing.  The forecast is for it to warm up to about 22 tomorrow and then the really cold temps will roll in.  Winter in Minnesota can be brutal.

Now is the time I'm glad I'm no longer in livestock production.  I remember those cold mornings out there on the open tractor feeding cattle.  Thawing out waterers and battling ice were never any fun.  Neither was dealing with hogs who were thirsty or hungry with a -40 F windchill freezing your fingers.  Dealing with livestock in the cold was not easy on me or the animals…  Read More
Livestock farmers all over the upper Midwest are bracing for a cold spell. How do we make sure our pigs are safe?

Over the last few days, Jonathan has made sure the stand-by generator is in working order. We would need that in the event of a power outage. He also made sure the LP tanks were filled, to ensure plenty of fuel to run the heaters in our barns…. Read more
This post is from a big storm last winter but Katie says it is in line with Ion too!
I started this post last week, when we were forecasted to have a big blizzard.  The meteorologists talked about it for days, and then we got a dusting of snow.  Today, we're in another blizzard.  This one was supposed to stay far south of us.  It didn't.When "they" predict a big storm, we do what everyone else does…we make sure the fridge is stocked, take care of any other errands, and prepare to hunker down….   Read More
Blaise of That Simple Spark in St Louis — Snow Day Supplies
Happy snow day, my little weirdo snowflakes.

St. Louis is expecting as many as 12 inches of snow today, and the city as pretty much shut down in terror. I'm spending the day playing in the snow with my pup, cooking a big pot of soup and organizing my stuff (a.k.a. shoveling the sidewalk while my dog poops on her leash, microwaving soup I bought yesterday from Trader Joe's and thinking about organizing my stuff…) Read More
What's your weather like?
I know some of you are like me, spending most of the day indoors thanks to winter storm ion. What's it look like from your perspective? Others are in much warmer places. Don't worry, you can share your weather without looking like your bragging! I'd like to be able to live vicariously through someone!
[inlinkz_linkup id=357992]