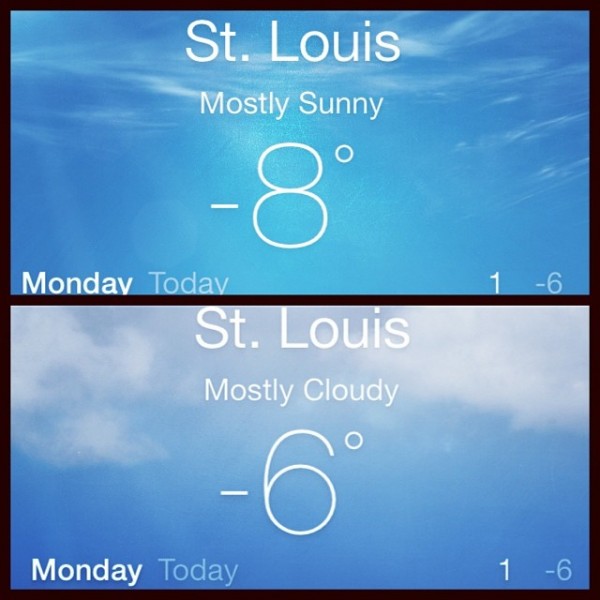 By now, you know that much of the US has been consumed by this polar vortex of winter storm ion. I have to say, I know a storm is going to be big when the local TV stations begin doing near 24 hour coverage or when weather words I've never heard before are used.
But it is cold. Really cold in a large percentage of the US this year. Friends in Memphis dealing with single digits and pipes in homes that aren't designed for that. Friends in Georgia are freezing. San Antonio is at new lows too. 
A few years ago, it was "thundersnow" and ion brought us "polar vortex." As someone who occasionally uses the phrase vortex of evil, I occasionally think about the fact that vortex means something that turns with such velocity that it pulls more and more in.
And it seems a huge percentage of the US got pulled into these polar temperatures!
I find it interesting that science writer Carl Zimmer who has a column at the New York Times tweeted about the history of the phrase "polar vortex."
"Polar vortex" from 1850 onward. You're welcome, @politco https://t.co/NktUC21Jy3

— Carl Zimmer (@carlzimmer) January 8, 2014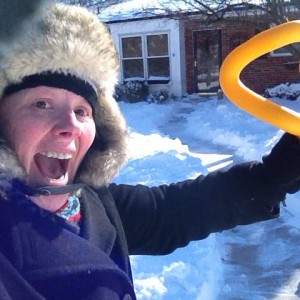 The temperatures here in St. Louis have been near historic. Yesterday it was a bright sun shiny day in St. Louis and yet the high was only 1 or 2 degrees! That's crazy cold!
I said I would NOT get out in that sort of weather, but as I looked at the 10 inches of snow on my yard and the two foot wall snow plows had created, I realized I would need to get out at some point. And sooner rather than later as eventually I'd need to go to work and that two foot wall would take FOREVER to melt.
So I planned my attack. I put on as many layers as I could & still move my arms and legs. I worked in 30 minute increments. It took several trips out yesterday and today but I conquered the snow wall!
Driving The Polar Vortex Away
For a little while, I thought maybe we had to "suck it up" and live with this weather. But then I hear of a plan… a plan to take action. And I guess I held out hope it could work. The idea came from farmer Ryan Bright in Tennessee, well, actually it came from his secret agent cows.
What this makes me think about first is border security. Why is the United States dealing with this cold arctic air? Because the terrible border control we have with Canada!

Obviously this is escaped weather from Canada and now we know who to blame! …..

The Buffett Plan

The Buffett plan begins in part of the Southeast South. I propose that at nine o'clock Eastern Time (because EST is God's time, and don't let anyone tell you otherwise) that everyone, and I mean everyone, point their speakers North and begin playing Jimmy Buffett music.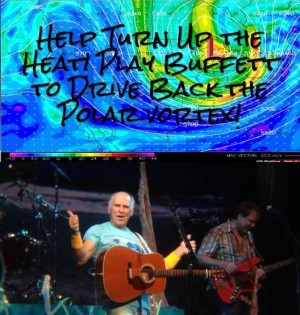 Granted, upon hearing that Canada was to blame, I first checked to see if we had been punked in some way and John Candy was here taking up the charge against the Canadians with Rhea Perlman ala Canadian Bacon. But as I read the Buffett Plan, I thought it may be worth a shot. With this in mind, today I listened to a little Buffett. I listened to a bit of Bob Marley too. I even listened to Iz sing "somewhere over the rainbow" in his unique Hawaiian style.
And while I don't have hard and fast data, anectdotally I can report that the high here today was the mid twenties! ARE YOU HEARING ME? Yesterday the high was one degree, today, a day where I played beach much, the temperature increase 25 fold! Granted, we don't need to maintain that growth curve, but the power of Buffett seems clear.
Thanks Agent 287 & Ryan for the idea!
So, what's on your iPod tomorrow? It may change the weather!
Previous Posts on Winter Storm Ion:
Related articles