My flight out of DC back to Memphis was loaded. The noon flight had been cancelled and that let a long list of standby passengers congregate hoping for a seat. With that in mind, I was glad to get an operator on the 800 line to find me a window seat so I got out of the middle. Little did I know that my changing seats would put me next to someone that I'd enjoy talking to most of the flight.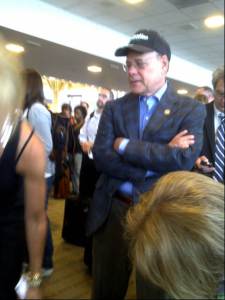 As others got on, I was wondering if my Congressman Steve Cohen would make the flight. There had been some sort of problem when he was trying to board. While waiting in the gate area, the head of the National Cotton Council Mark Lange & I had been visiting as Cohen walked up. He was in his Grizzlies hat and I knew we were both anxious to see the Grizz grind. I said we needed to get the delays behind us & get home before the game. Like me, Cohen has spent some time trying to tell folks about what's happening in Memphis (including on this video). Finally as we neared the end of boarding, I saw Cohen's Grizzlies cap coming down the aisle. The lady in the seat next to me said he just kept calmly saying he was sure he had a seat and that it would work out.
I said something about how fantastic the Grizzlies "believe Memphis" vibe has been. As you may have gathered, the person I was having this conversation with, the lady in the seat next to me, was from Louisiana. We talked for a long time and I found her experience so unique & her story compelling, I asked if she'd talk on the recorder for a bit. We finally introduced ourselves as Doris agreed to do this chat digitally. There is so much we discussed that I can't cut enough to make it one short podcast, so I'm going to break the conversation into three segments. I don't want to drag this out though so I'm put them all here in the same blog post.
Flooding in Baton Rouge
(4 minutes 48 seconds)
Doris has lived in Baton Rouge for 30 years and before that lived in a small town in the area to be flooded as the Corps of Engineers opens the Morganza Spillway. Like me, she had taken time to go see the riverfront. She describes the city beautification effort that laid concrete on the levee stabilizing it, the city added the Baton Rouge lettering. Its a very strange sight when the letters disappear.
Living far enough away from the river, Doris isn't so worried about her personal safety. But she reflects that to save larger cities like Baton Rouge and New Orleans, small towns will be flooded. She talks about the devastation of a flood as it levels parrishes, takes homes & farmland. You know you sustain losses but so do your negihbors and most of your support networks.
Living in the Morganza Spillway
 (6 minutes 34 seconds)
As I segmented the audio, the news was released by the US Army Corps of Engineers that they had indeed opened the Morganza spillway today May 14. The Corps has a Flickr photo album from which I pulled this photo. And the event was on UStream too.
(Reuters) – U.S. army engineers on Saturday opened a key spillway in Louisiana to relieve pressure on the swelling Mississippi River, a Reuters eyewitness said.

The U.S. Army Corps of Engineers opened one of the 125 floodgates at the Morganza Spillway 45 miles northwest of Baton Rouge, Louisiana's capital.

The action could inundate some 3,000 square miles (7,770 sq km) of low-lying swamp and cropland in the Atchafalaya River basin in up to 20 feet of water for several weeks, but spare Louisiana's two largest cities from flooding.

via Louisiana spillway opens to relieve flooding: witness | Reuters
This water is headed straight into the small towns and rural areas of South Louisiana that Doris used to call home and that some family & friends still do. According to the map, quite a few areas would hit 10-20 foot of water. Doris talked with me about what having you house flood is like. The smells that overcome you, the way you think you are prepared for it, by moving out what you can, but that you can't comprehend how horrible and straining it is on a person, family and community. She tells about the recovery is ways I couldn't even attempt to restate. Its best leaving it to her if you'd like to know what the people of South Louisiana will soon be facing.
How to Help Flooding Victims
 (5 minutes 57 seconds)
After hearing her story, I wanted to know how to help. She points quickly to the quick action of the American Red Cross, as well as the actions of churches (near and far). The basic needs of water, food and shelter are the topline but over time, cleaning supplies, drywall, insulation and other things are needed. She says the benefit of knowing people care is something that gives you renewed strength. Meeting neighbors you may not have talked to before become part of that group of people you know you can turn to as people attack the recovery with zest.
My heart and many prayers go out to the folks down river. I hope that everyone is able to stay safe and dry and that the recovery of homes, farms and businesses go quickly.