Recently I've noticed that bacon seems to be the meat generating a lot of buzz. Think about it, how many things can you think of that are better with a little bit of bacon? Scallops, shrimp, filets, burgers, eggs… I've even had bacon wrapped water chestnuts! Now, what makes bacon better? My only thoughts are having more or not being burned!  (though i had to laugh when one of the guys made my preschool aged nephew a plate of bacon for a manly breakfast, my nephew disagreed!) I've been finding some fun bacon resources and thought I'd share in the love of bacon on social media!
Bacon Blogs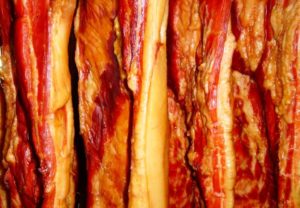 There are lots of blogs on bacon. And in fact, I found a top 10 list on blogs.com that I had to check out a few. Most of them cover a wide variety of bacon content.
Here's the list:
Blogs I Follow that Speak to Origins of Bacon
Most of those talk about bacon on the market and in the home. But a lot goes into getting bacon to the store or plate. That's where my ag peeps come in. You should look at it because the blogs reader's have already added quite a few on there. And I have to say, I have a few suggestions.
John's Custom Meats is a butcher shop in Kentucky and one of the proprietors, Amy Sipes, routinely makes my mouth water with pictures of some new cut of meat. (Thanks Amy for the photos on this blog post! You really make me want to shop at your place!)
Meatblogger – Chris Raines was a professor at Penn State and a meat expert. No, not like the folks who just eat it – he knew way more than I thought was possible! He passed away a year ago and I miss him something crazy, but there is still great info on his blog.
Pork Power Blog — This is a blog done by a group of pork farmers… recipes and marathon training are among the themes.
Three kids & lots of Pigs — I love what Heather Hill (aka @ProudPorkMom) does. Like lots of farm moms, she's working full-time, raising kids and helping on the farm.
So what does that leave her with? Time to blog? Probably not but she does an awesome job with it anyway!
Chris Chinn – My girl Chris Chinn has a family farm that raises hogs in Missouri started this blog for the 2010 holidays. She's captured some great thoughts about some of the struggles of farming but does an equally incredible job of helping explain why she wants to keep those options open for future generations.
From My Front Porch — Jent her husband Chris and kids are enjoying life on the farm in Indiana. She writes about various things that happen — from sending hogs to market, to feeding horses and taking care of cows.
Unique Ways to Celebrate Bacon
There is a whole world of bacony products out there to celebrate the love of bacon! And the website ThinkGeek has lots of bacon novelties to choose from. Here are a few that intrigue me. 
[youtube http://www.youtube.com/watch?v=rGyKp3G6r2A]
[polldaddy poll=5049109]