I'm feeling pretty reflective this weekend with Father's Day. There are a few reasons for it. One of the big ones I shared briefly on Instagram and will talk about more soon on the blog is our shared allergy to bee stings. The constant barrage of emails and ads trying to get me to buy gifts has reached a tipping point too. So when I saw a friend fill out a Q&A sort of thing on Facebook, I decided to give it a go. But I couldn't keep to short answers. And then I wanted to pull a few photos to put with it. I haven't written about my dad Frank Person in quite a while so next thing I knew, I had to post it here.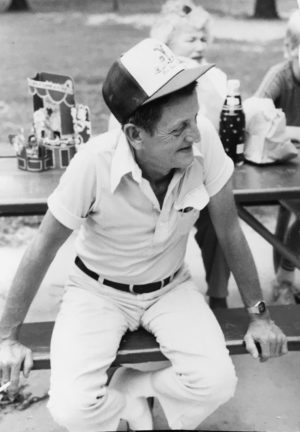 I'll give the FB Q&A a bit of a lead-in. Dad died young, while I was in college so some of this was pretty challenging cause we just didn't have time to know each other as adults. Good to really put thought into answers and it may be interesting to see what others in my family remember cause this prompted me to sit down and think back. 
So the post on the book of faces started with "ADULT Daughters: How well do you know your Daddy? Copy, paste, and fill-in the blanks:" And the questions. 
He is sitting in front of the TV, what is he watching? Chances are he's fallen asleep in the chair while watching football if that's an option. And on Sunday afternoons it was the thrill of victory, the agony of defeat…. god, he would have loved ESPN. He also loved shows like Matlock and The Equalizer. We like getting the remote while he slept, turning the volume down slowly so he wouldn't notice and then changing the channel and slowly raising the volume again to watch something else. We never had cable when dad was alive and most of the time there was just 1 TV in the house. I can't imagine how surprised he would be by today's home and media habits.
What dressing does he eat on his salad? Mom used to make thousand island dressing pretty often. I'm guessing that but he loved bleu cheese.
Name something he hates? The smell of apple or watermelon Jolly Ranchers! Oh my the man hated the smell of that candy. I was reminded of this so vividly as I enjoyed a watermelon JR sucker recently. 
You go out to eat, what does he order to drink? First off, we almost never ate out. We were REALLY working class, scraping by with four kids. Rare special occasion, eating out, unsweetened tea or a beer. 
When he's being sentimental it's about? The accomplishments of his kids or grandkids. He really was proud of us getting good education… every graduation, you could see his chest swell. He was also proud of how many of us were leaders on campus and would smile knowing he could help (we had printed stickers long before quick print shops opened up).
What is something he liked to collect? Bottles. He didn't keep the hobby up very much, but he did enjoy it.
What is his favorite color? Hmmmm… That's a question I'll just shoot in the dark on. Maybe blue?
What are his favorite sports team? He loved the hometown teams. He was a diehard Memphis State fan. One of the rare things he did with a brother who lived locally was go to a Memphis basketball game. He liked Chicks baseball and playing softball with guys from church. There were great years on the bowling team… even a near perfect game if I remember right. And he loved college football — went to the Liberty Bowl every year with friends. I still remember him talking about Bear Bryant.
You bake him a cake for his birthday, what flavor? Hmmmm… I'm not sure. HMaybe a simple yellow with chocolate frosting? But he'd like it after a rare, really rare steak.
What is his favorite animal? Favorite animal is a strange one…. he always tolerated our pets but with four kids and working hard, I'm not sure he would have a favorite out of that. Definitely didn't like cats so I'll say whatever fish one of us caught, or a deer shot while hunting. 🙂
Really enjoyed thinking about things specifically based on a prompt though at first it seems like it may not be as fun…. and now that I have it out here, it can be shared with all his children and grandchildren… even the great grands… That's a great reason to have moved it to the blog!
Your Thoughts
If you knew my dad, I'd love to hear some of the thoughts this prompts…. If you are in a similar place thinking about your dad this weekend, please share. I'd love to hear about him too!