I started this blog in 2009 and it didn't take long before I ended up writing about where I work. It wasn't part of my plan. I mean this is just my personal blog. A place where I share whatever is running through my head and heart. So occasionally, work is on my mind, even when I'm off the clock. It is a job I am passionate about so I'm sure lots of you can identify that it doesn't stay in the 8 am to 5 pm timeslot.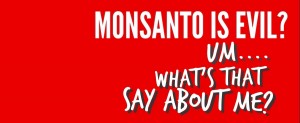 But have you ever felt people think you are evil because you work where you do? I have had the experience quite a bit online. And occasionally it happens face-to-face. One of the first times I had that put right in my face after I started my blog, I wrote about it. Someone actually said Monsanto is evil. I had a choice. I took what I called the middle ground rather than ranting or sitting there speechless.
That encounter comes up from time to time and now it is part of an article in an international science magazine called Cosmos. It is a bit strange to see my story referred to in a publication out of Australia and highlighted on the journalist's blog on Discover. But that's how high-pitched the rhetoric about Monsanto has gotten. And Keith Kloor is just trying to understand. He writes:
Several years ago, Janice Person, a Memphis-born PR specialist and amateur photographer, was making small talk with a stranger sitting next to her on a plane when the conversation turned to their jobs. "Where do you work?" the woman asked Person.

"Monsanto," Person replied.

The woman gasped and her eyes widened in disbelief. "Monsanto is evil," she said.

Person, who is the social media director for the US-based agricultural company, hears this a lot. The sentiment is sprayed all over the Web, where Monsanto-bashing is at its most fevered.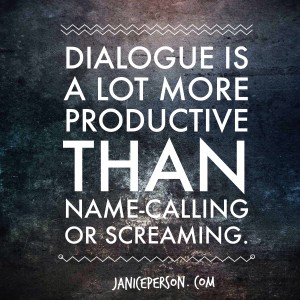 He spends the rest of the article asking the question "How did we get to this point?" I think trying to understand that is important, but more importantly, I think we need to figure out how to move forward with real dialogue about the things that matter. And another article in Cosmos talks through some of the things driving the fear that is so common.
While the few people know are doing the name-calling shout louder and louder, I have found more and more people see the absurdity of the misinformation & tenor of the talk. And farmers are standing up and calling BS on things they see too.
And I think more people are seeking out the middleground. That's where I found Nathanael Johnson, who writes for Grist magazine and did a thought-provoking series on GMOs over the last several months. Just this week, in a twitter conversation we were talking about the pitch of the discussion and we agreed that listening is important as is treating people with respect.
I hope there are a lot more people who understand listening and dialogue are the way to move forward. And I hope they find some folks like me
As for me personally, I remain grounded in the fact my momma raised me right, that my family and friends know my heart and that the farmers I meet by the thousands see the world through a multi-colored spectrum, not in stark black and white. I'm also rooted in the fact that I am one of many in agriculture — we are big and small, GMO and organic — who would rather focus on the real challenges ahead of us than name-calling exercises.
We may not all agree on all the details of agriculture anymore than we agree on the details of politics or anything else, but having productive dialogue is a much better use of my energy than calling people names. I hope you agree and take time to read the pieces Keith has written on Cosmos and his blog, as well as the one on the psychology of fear. If so, what can we do to move this forward?
A few related posts:
Related articles