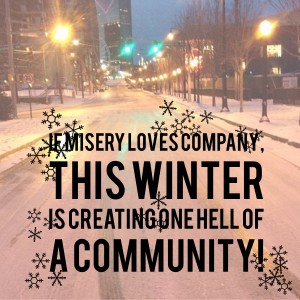 I've noticed something recently. Anytime someone talks about how cold it is, how much snow there is or whatever, it seems someone has to try and "one up" that statement with something worse they are dealing with. Using the energy to try and one up each other is a waste for me, I need that energy to stay warm!
Well let me say this clearly. I don't have enough energy or patience to compete. I just don't. Maybe I could scrape some together though for a community of miserable folks. We can commiserate together.
This winter is horribly cold in the central part of the US. I've written about ways to endure the extreme cold temperatures. And I wrote more about digging in for bad weather.
The weather is enough to seriously make me wonder whether I could get a job in the tropics. I hate the cold. I have to wear multiple layers every day. It actually has been hurting to breathe some days. Yes, it was scary enough that I sought medical attention over it.
Still, I know some folks have it way worse than me. I have a well built, well-insulated house. I can afford to pay for the heat (even if this knocks my budget out of whack). And I try to keep a sense of humor sharing silly selfies of me in my Fargo hat, I have shared a couple of cold weather recipes (check out the rumchata snowcreme recipe I did for Carries blog!), I use "kill overwintering bugs" as a mantra and more.
I am still reeling from the fact that the temperatures friends in Winnipeg have had to deal with are similar to the temps on Mars, a planet that is not suitable for human life.
My brother (and lots of other folks who raise livestock) is braving the cold a few times a day to check animals in the barn, get them water & food etc. And after living in Ohio for decades, he learned what a snowroller is cause the word suddenly popped up as did some rollers!
Have you heard of these? There have to be a series of things to happen and then nature makes its own snowballs but they look more like a jelly roll.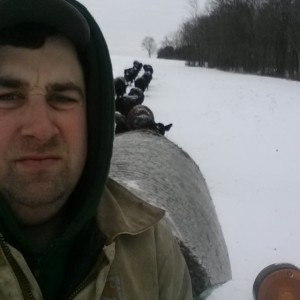 Some farmers are sharing selfies they are tagging as #felfies so folks can see what it is like. This one of Mike Haley in Ohio made me laugh cause you just have to think he was so cold he couldn't care about getting another snap in that cold. He was leading cows to a pasture that would offer more wind protection.
And the temps in the south have plunged yet again. My dear friend Marjory who had to deal with frozen pipes a couple of weeks ago & the cleanup & new insulation, etc that goes with the knowledge that can happen is once again dealing with it. Thank goodness I don't have photos on this one!
And another friend Anna Leigh Peak is in Atlanta. Her photos in my Instagram feed scared me! It was too close to memories of snowmaggedon I faced in Atlanta a few years ago!  A city that size doesn't want to spend lots of money for snow plows that most years are unneeded. And I can just say, that's why Southerners think they should simply stay home when snow or ice hit!
I say all of this to say I feel no need to compete with anyone about who has it worse (and let me add, the drought in the West is a major problem too). We can't do much about the crappy weather other than try to stay warm.
If misery loves company, this winter is creating one hell of a community! Who do you know that should be a member? Any especially good story to share?