Late Monday afternoon as I was nearing the point of exhaustion after a hard day's work on the move, I got a call from a friend. In the midst of it (like most calls over the last several days), I got distracted.
This time it was to confirm for Leo know that I wanted something to go downstairs. From the other end of the phone I got a "Who's Leo?" and when I said "one of my movers" she laughed a bit and asked "you know them by name?" I laughed and said of course and explained the other guy is Shaun (or Sean or Shawn… hmmm not sure on the spelling but I'll go with Shaun for simplicity).
But reality is, I'm not sure how you could have someone help you with something that is so important and not know them by name. Leo & Shaun showed up at my house in Memphis Wednesday morning. They spent full work days in my home Wednesday & Thursday as they packed. Mom hung out with them Friday and I was back on duty Sunday and Monday.
Its not just the amount of time we've been in the houses. Its the contribution they've made to me making a successful move. And despite Leo's looking at me like I lost my mind when I took this photo, he and Shaun were all smiles it seems.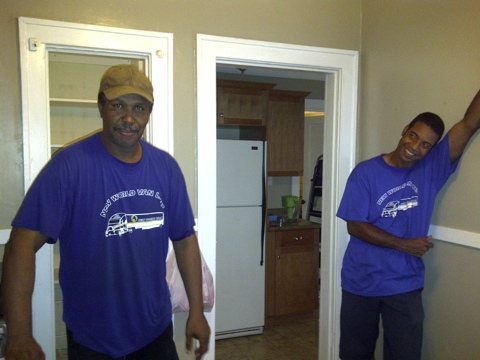 I've moved long distance quite a few times as I mentioned before. A couple of times I was moving an apartment and that meant my things went on a truck with someone else's stuff. It took longer to move. And I've had to put things in storage before. And I've had people who just seemed to be doing their jobs.
Not so for Shaun & Leo. They worked really hard but didn't mind a little chatting too. For me that makes the work move faster. And while I'm moving more than I had before, We got far more unpacked than I've done with the others. And all the important things…. the glasses from my dad's mom, the table my mom's mom made at school, the precious memories of trips gone by…. those all arrived unscathed and almost all were unwrapped and placed where they needed to go to make the new house my home.
And Leo & Shaun took time to make sure I did it right. I was reminded how I should pick up things so I didn't have a sore back. The gentle reminder of unwrapping glass things over a box because it cushions the fall if it happens, etc.
There were no complaints when upon arrival I changed some of the placement of things than we had discussed (which meant things that were packed in the truck meant for the downstairs suddenly going upstairs).
Not sure I'll be moving again, but its always a possibility. Gotta wonder what New World would say if I requested the same crew again. Wonder if it works that way….
Next time I'll know that the way to celebrate is with a big glass of chocolate milk. That's what Leo says helps him recover from a long, hot day. He and Shaun hadn't heard about the people who want to limit chocolate milk in the schools. The first reaction was that there are folks who worry about everything but that chocolate milk is a great way for really active people to keep going. I agree and wonder now if I didn't have the ooomph to recover tonight because I simply drank ice water. Maybe Tuesday's unpacking will be followed by chocolate milk…. after all, grocery shopping is still on the list of things to do!