There are  times when you feel so totally connected to someone and whether you have the social license for them to actually know that, the reality for you is you share a lot with that person through routine interactions. It is something we see play out in social media time and time again, but before social media, I had BB King.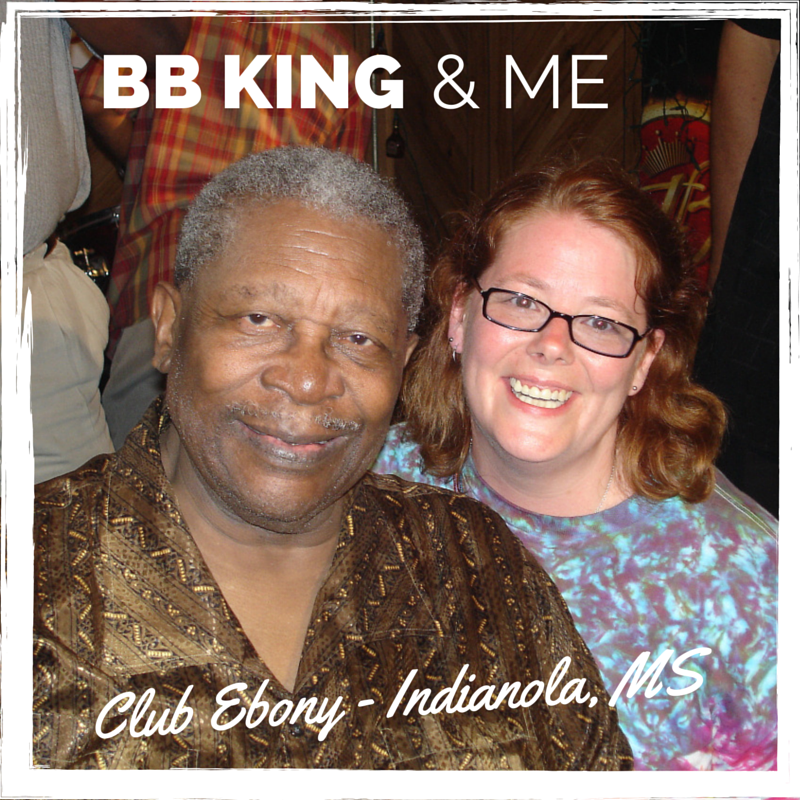 For years, I have known we would lose him too early and I made sure to enjoy his concerts whenever possible and I can't help feeling bummed I never had a chance to take my nephew to hear BB at the juke joint. And I knew I would write this post. I have previously written about him too saying how thankful I was for BB's music & some of my experiences with him.
I was exposed to the blues early. The Memphis in May music festival has always given me the chance to see the greats — John Lee Hooker, Stevie Ray Vaughn, Buddy Guy and of course the King of Blues himself B.B. King — and local musicians that get little or not recognition but who embody so much of the musci. There is something about the blues…. it is just part of my inner fabric.
When I left the south for New York, it seems I held the blues and BB in particular close to my heart. By then, we were already losing John Lee Hooker and others. And it just seemed there was a wisdom to these people…. having seen what they saw in their lifetimes, they found ways to process it, improve their spot in life and move on.
His playing a concert with Bobby Blue Bland and The Manhattans serving as the warmup acts, I was struck by the vibe at the Apollo Theater. For the first time in New York, I had found a connection to a community that I had missed since leaving Memphis years earlier. Talking with the other fans in the theater, Heidi and I definitely stuck out in the crowd…. we were half the age of most and our light skin kind of glowed. We were in heaven though and everyone felt the same.
When I left New York, I got a new access to the blues by living in the Mississippi Delta…. the very cradle of the music I loved. I got to know more of the blues musicians' hometowns and I had the chance to see BB King play at least annually when he would have his homecoming. And I remember the concerts where BB no longer stood with his guitar for the full show…. my heart hurt as it was clear he wasn't as sassy as he once was as he played "Rock me baby."
I don't know if any other musicians do these events, but for BB King, a homecoming included a concert in the part that was suitable for all families to enjoy. He had fireworks and dance contests kids loved and the music that touches our soul. And my nephew came down from Memphis as a child to join me in soaking up this Mississippi ritual. We had a blast!
After Kazu had come a few times, I went to the groundbreaking for BB's new museum the day his concert would be at night. I was armed with a montage of photos I had printed from the previous year's concert. It was hot as summer in Mississippi gets and it hadn't rained in a long time. Everyone was vying for shade and BB took time in his remarks to talk about how the cotton gin in front of us was symbolic and yet a very real touchstone for him and those of us in the Delta. Cotton is a big part of who we are. And he asked for rain knowing farmers needed the break.
And when I finally got to shake hands with BB (who as always was amazingly generous), I didn't talk about how much I loved him, I showed him the photo and explained that my nephew would be in the crowd tonight singing along & dancing to the music. I asked if he could sign it. He leaned in and said something along the lines of "these guys made me promise I wouldn't start that this afternoon cause we have so many things scheduled, but you catch me tonight and we will get that done." He then smiled and said "he's a handsome young man!"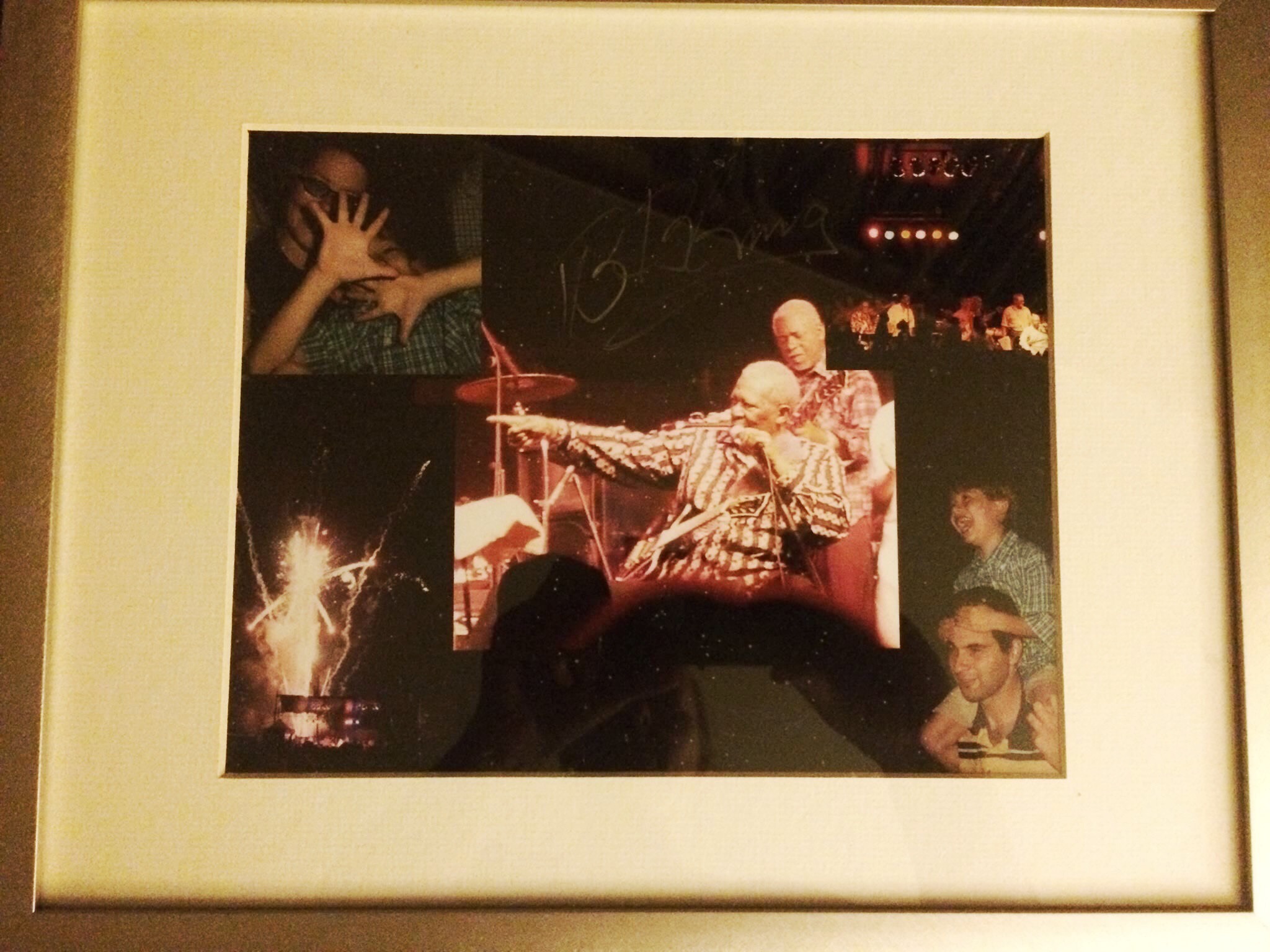 BB's security guys looked at my photo & pen and let me know there would be none of that this afternoon. So I planned. We enjoyed the park concert and Kazu went home with my neighbors so I could go jukin'. And around 2 am at Club Ebony I saw the window and pen and photo in hand, I made it past security and BB smiled. We chatted about my persistence, about how Kazu enjoyed the show, took the above photo of us together and he signed the print.
Then and there…. we became bonded for life. Right in Club Ebony in Indianola.
Getting home at 3 am, the 7 am phone call from my neighbor saying Kazu was up and ready to come home came early. But I woke up fast. He walked over, my watching and we sat down to talk about the rest of the night. Kazu had gone to sleep on the drive home and enjoyed the sleepover. And I started to tell the tale.
I explained how I knew I would have a possible chance to meet BB that day with the invite to the ground opening and how close I had gotten with a photo but rules wouldn't let him sign. I explained how I had hoped the rest of the day but it just seemed too much to think I'd get that second shot. As I pulled the camera out I said but by 2 am I was still going strong and BB was letting people get their photo with him. Kazu was thrilled for me saying he wanted a copy!
And then I pulled the photo out and said BB kept the promise. And the eyes opened so wide. And I knew I had a true blues lover with me when he said "we need to get a frame for this… a good one." He told me how he hoped some day he'd be old enough to see that second show at the club and I said I hoped to be able to take him.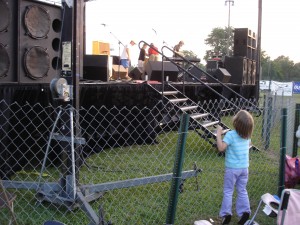 We won't ever get to see BB at Club Ebony together, but in the years after that, we had several more BB King adventures. The adventures have included a wide range of family and friends and BB was there in the middle of it all. I think this weekend will include a lot of the blues but remembering that some of those are upbeat, rockin blues, I think we will be good. We had the chance to share it with others including his little sis who stretched to see BB.
And the photo left in my mind will be the ones from this post, including the last time BB and I had our photo taken together. It was at the grand opening of the BB King Museum in Indianola. Yeah, I know he was on stage and unaware of the photo being taken, but I think he would have welcomed it and had a big smile on his face as he asked me about my nephew.