Having July 4th holiday in the middle of the week makes it a strange celebration. I celebrated with friends and family in Memphis this weekend, but came back to St Louis for work. That left me in a bit of a quandary about what to do for the fourth. Mind you, having traveled all weekend, I have plenty I need to do but that didn't seem quite the spirit I was into.
Luckily, at the office there were some tickets that were available to Tuesday night's Cardinals game.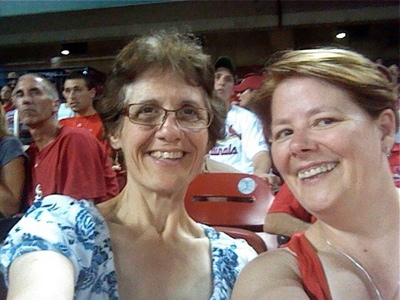 My friend Sharon and I went together. We decided to take the metro so we could arrive during batting practice and man am I glad we didn't miss the opening of the game cause not only did that have us the for the opening pitch, but we got to see the US Army's Golden Knights parachute into the stadium! Check it out on video.
It was pretty awesome. Everyone seemed to think like us, the parachutes coming in was awesome. But when we realize there were a dozen or so, with some of them going incredibly fast on their descents, we were blown away. And I'm sorry I was moving the video so much but you should have seen our heads spinning!
In the end, the Rockies may have won the game, but the start reminded us that we really all are winners. We live in a great country that is always striving to do better. We can disagree about what that looks like but we have a system that recognizes that and can still move forward. Granted, paratroopers weren't part of the picture in winning American independence, but men and women like those I saw last night, keep working for our freedom and the opportunity to improve ourselves, our communities and our nation…. And that was just what I needed for the holiday, even if it does fall in the middle of a week
I hope you have a great holiday too!