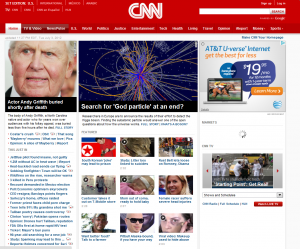 Over the past few months, I've done several posts about some of my social media heroes. I have a lot more to go. But recently I sat down to write a post for the AgChat Foundation's website and realized I was writing a lot of the things I should put together explaining why Ryan Goodman, a Arkansas ranchhand @AR_ranchhand actually, is one of my social media heroes.
The post for AgChat is about  how a farmer can get a chance to write for CNN, so I'm going to use some of that post here. See, I'm one of the folks who watched as Ryan got a chance to write for CNN's food blog 'eatocracy'!
Yes, our friend, the person behind the AgProud blog and Facebook page, Twitter's @AR_ranchhand, Ryan Goodman wrote a piece for CNN's food blog "No Bull – what a cattle farmers wants customers to know"! I bet some folks had to wonder how it happened and are wondering if that sort of thing can happen again. (Editor's Note:  The screen capture at left was shot Tuesday, July 3, 2012. It shows Ryan on CNN.com with his second article for eatocracy "No bull – start a conversation with a farmer." I am so proud , yep, I'm #agproud!)
What Makes Ryan So Special
Ryan created this opportunity by being himself and being available on a regular basis. Opportunities don't just happen out of the blue. So if you want to dissect the steps involved, here's what I see makes Ryan so special:
Puts himself out there in conversations and groups — A couple of weeks ago, eatocracy had a post about gestation crates, and I asked some farm friends what they thought of the piece since I am not a livestock person. The discussion about the post helped me think through various ideas from others and in the process, Ryan thought about things, left honest comments and contributed his experience with a really balanced objective.
Engaging with people whether or not opportunity knocks – when Ryan participates in a conversation, he does it from a place of honesty never just trying to get the big light to shine. He was making a difference before he caught CNN's eye and he will continue to do just that.
Built an incredible content base – Ryan actively engages with people throughout the week and has been doing that for years. He has multiple venues online and in real life. I have to say if people reading the original post clicked on Ryan's name, he had linked it back to his website AgricultureProud.com. Doing that, a blog manager or reporter would see an established ability to have conversations on topics about food and farming.
Offers expertise, don't pretend to be an expert – You can tell, Ryan knows his stuff and is interested in talking to others about the topics. He participates in an open honest dialogue without trying to make people think that what he says is right…. he's just sharing information and having conversations. He offers his expertise without talking down to anyone.
Celebrates other's passions and successes – One of the things that draws people to Ryan is his joy in celebrating the passions and successes of others. Whether its giving people a stage from which to tell their story through guest posts or taking a photo now and then to send a friend (yes, he has done these things for me and lots of other folks!) That builds his network.
Social Media Hero Status
All of those things that make Ryan special, also make him a social media hero but there are a few more things too I've seen in the past few years. He's got a lot of irons in the social media fire and keeps each of them moving along steady and true. Here's at least some of the places you can find Ryan:
Previous Social Media Heroes: