On my lazy Saturday I finally got up and turned on the Olympics. I know, I missed Team USA playing hockey and I can live with that. But I get to catch more skeleton so I'm ok. I just saw this Geico commercial…. In this Geico Insurance ad, the guy asks his colleague "Did you know that Old McDonald was a really bad speller?" So what did you think? I'll put a quick poll for some options, feel free to add your answer if I didn't think of it!
[polldaddy poll=7802211]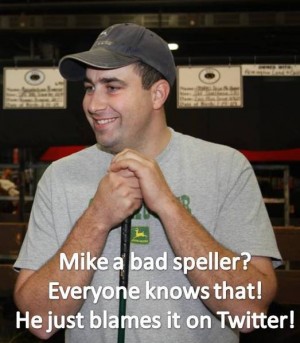 My first reaction? It was to see that farmer as Mike Haley (aka @FarmerHaley)! Seriously! That was my first reaction. And there's a meme to go with it now! Mike is a really bad speller. And seeing him at a spelling bee, well that made me really laugh and I could hear him laughing too!
The commercial was definitely funny for me! Then I thought of other farmer friends who are good spellers…. surely people would see this was a goofy ad. Nobody would assume farmers can't spell … but since he had it right and couldn't stop at cow, maybe people would think farmers just don't know when to quit. Well, that's a good possibility knowing some of the farmers I know!
Some of my farmer friends really don't know when to quit at times. I see them posting about harvest or calving checks all hours of the night. They work long days just like many of the rest of us do. Some doctors and nurses have on-call times that leave me stunned. Lots of CPAs are beginning to work longer days & weeks for tax season. Heck, even my beloved travel can get too long.
Anyway, it was just a fun series of thoughts while I watched the Olympics. Hope everyone is having a great weekend and letting your mind wander and taking time to laugh!
Related articles