I have been distracted from blogging recently and need something to get my but into gear. That's what I was thinking this week when I saw Holly Spangler set a stake in the ground to write a blog post everyday for the month of November. As I was thinking it through, I was nudged as Katie Pinke at her new blog, The Pinke Post, decided to do 30 days of North Dakota. And somewhere ni the back of my mind, I think it was Margie Clayman's celebrating her birthday by writing blog posts daily that spurred the connection that resulted in Margie interviewing me for a post the following month. Well, consider this me putting my stake in the ground along with my blogging buddies!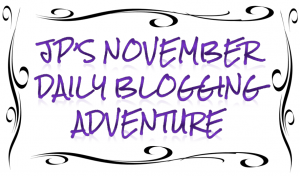 The everyday this month challenge is something I'm really familiar with and in fact, I previously did one on the blog. But that one was different and I barely acknowledged it here really. It was led by Judi at farmnwife.com and was for a small group of us to read, discuss & act on a book that gave you tips on blogging. Some turned into posts, but some of the stuff was behind the scenes. (I mentioned it in my post about why Judi's one of my social media heroes.)
Holly is writing about her prairie farm and Katie's talking about North Dakota in their month of blogging daily. So what should I write about? I'm thinking I'll write about various things, the way I normally do! I've got some adventurers I haven't shared here before, stories that I think you may enjoy, people you really ought to know about and places I've been and things I've seen. I probably should start making a list, but I'm thinking it would be best if some of you helped me think through things I should share.
What story have you heard that you think others would enjoy?
Is there something you'd like to know about me, the places I've traveled, or the things in agriculture I've gotten to see?
Are you interested in knowing anything about my blogging addiction?
What else could be good to have on here in the next month?
PLEASE, I beg of you to help me make that worth both of ours time!
In the meantime, I'll start putting together some of the things I've been meaning to get to but dragged my feet on! Yes, I need to make up a post for yesterday, so I'm starting in the hole. I hope to get it done soon. While I want to do this daily, I also want them to keep readers by making them good enough to be read! You can either tell them thanks for prompting me to join the daily blogging challenge this month or ask them to talk me out of it! 🙂 You can find them at:
And you should probably go ahead and subscribe to their blogs too so it's easy to read all 30 days from them. If you haven't subscribed here either, what are you waiting for? The subscription box is up there to the right.
After I posted this, I found this great list of others doing the 30 day challenge on one of Holly's posts. I hope she doesn't mind me stealing it! 🙂
Please leave your ideas for me to blog about in the next 30 days in the comments section. 🙂