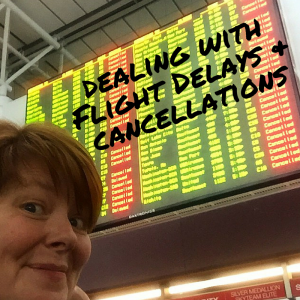 As you know, last week I was one of the thousands in Nashville bracing for how travel would be impacted by the pending snowstorm Octavia. Well, there was no snow and it was ice instead.
Monday was a long day. My flight was to have left at 5:25 am. To be sure I was here, I got up as others at the conference were coming back from Tootsies downtown. I was in the airport by 4 am and my flight was one of few that hadn't been cancelled. I shared lots of photos & videos on Instagram. After more than 10 hours in the airport, my flight was cancelled.
The next morning I was on the first shuttle back to the airport. I tried staying optimistic but that didn't seem to help me move too much! LOL. It did however make sure that I kept a good frame of mind and I found out that helped others deal with the flight delays. And as I posted on personal social media channels, I realized there were more tips that I could share.
What did help that I failed to mention in my previous post on planning for travel delays?
Find Recharging Capabilities
Finding a booth with long benches I could nap on and outlets so I could charge my phone, laptop, etc. While I didn't think about it in the early morning hours, the fact that it was in a bar that wouldn't open for hours turned out nice.
Build Community
Remember lots of others are in the same boat as you are. The spirit of community can come together. I met several people who I connected with over the two days. Some would keep an eye on my stuff as I took a break and I did the same for them. Especially if you are traveling solo, you can simply share smiles, etc. If you are traveling with someone (day 2 of my travel insanity was spent with Lauren of Paint the Town Ag), you not only have someone to help you keep your peace of mind but your sense of humor!
Move Around
Paying attention to the flight and gate crews will give you some clues. When our crew left the gate area, I took a chance to do the same, whether it was simply to get walking or get a change of scenery, etc.
Don't Stress It
Knowing how to roll with things. One travel pro tip I hadn't thought to share, is using the airline's phone app. It keeps you in touch with delays, etc and offers rerouting options without standing in line. As I watched dozens of people line up every hour or two, looking for that next connection, I secured mine through the app or phone line. There were Delta customer service phone banks nearby — they are much faster than waiting for the lone gate agent.
Seize the Moment
Move on getting a hotel by the airport that has a shuttle service as soon as possible! When our flight was cancelled at 3 pm, I got busy rebooking flights and finding a hotel. If there are still shuttles running, you will be glad you got out of the airport and into a place you can really relax. That makes all the difference when you head back to the gate for day 2.
Stay Positive…. Really
Keeping a positive mindset. Seriously, positive energy is just so much better than letting frustration guide you. When a group of loud complainers sat down nearby, the beats and iPod came out. After a while that wasn't enough so I decided to get a change of scenery. To stay positive it really does take focus…. and since I'm such a camera buff, I figured this quote fits me & travel perfectly! "Life is like a camera. Just focus on what's important, capture the good times, develop from the negatives, and if things don't turn out – take another shot."