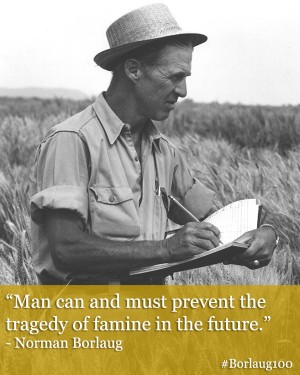 Tomorrow, March 26th I have the incredible pleasure of joining a celebration of one of the greatest men who graced the planet — Norman Borlaug.
And although Penn Jillette is funny playing a card game comparing the best humans have lived, he is dead serious when he knows he has found the ultimate trump card — the one of Norman. But reality is very few Americans know the Borlaug name or how he helped save a billion lives.
I'll admit that I was one of those Americans several years ago. And when I first heard about Norman, I have to tell you he sounded mythical. I mean saving a billion (with a b) lives? He was the father of the Green Revolution and he won the Nobel Prize for it!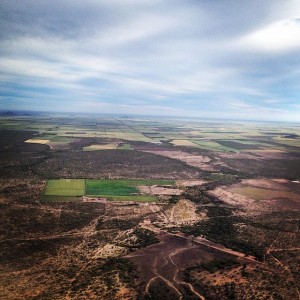 And now, I find myself literally and figuratively thousands of miles from that place as I am in Ciudad Obregon, Sonora, Mexico to celebrate what would have been Borlaug's birthday. And I'm writing a second blog post about him as B was for Borlaug in my A to Z project on agriculture.
The trip has included meeting plant breeders who shared Borlaug's passion for empowering people to feed themselves, their families and their communities. My friend Albert spent time here in Obregon at the wheat institute names CIMMYT. His first-hand stories are great as are stories from so many others.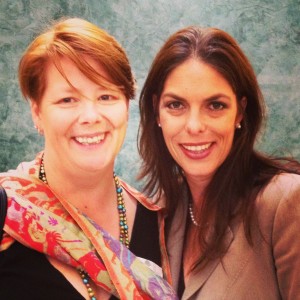 I've gotten to know Norman's granddaughter Julie (who is doing incredible things in terms of empowerment). Who helps us think about the fact that Norman would rather us focus on the next hundred years than the hundred that will have passed since his birth.
The challenges for food production are all around us. There are challenges in the US, and there are certainly challenges here in the Sonoran desert where I find myself. I am in the midst of hundreds, maybe even thousands of people who have come to a farm town called Obregon, getting ready to look at wheat in the field.
And these people are focused on solutions for their part of the planet. They are trying to alleviate drought's impact, or find ways to boost the plant's resistance to certain diseases, or yet more.
Wow. And I get to be here to help more of them understand how to communicate. Wow.
But in reality, this wasn't a long trip in so many ways. I would like to think I have always been a compassionate sort. The kind of person who thinks people who are hungry deserve a chance to feed themselves and their families.
Isn't that the kind of legacy that needs to be continued?  And that we need more people to share? I hope you join us, if you need more info, try this: