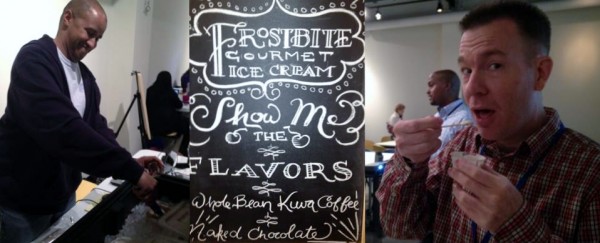 I have previously talked about how awesome Show Me the Blog is, how great SMBSTL founder Danyelle Little is and how I met dairy farmers there this year. Well, this is a blog post that has been coming for more than a year! Because it was at the 2011 Show Me the Blog that I first had Frostbite Gourmet Ice Cream (getfrostbite.com, @getfrostbite and on Facebook/getfrostbite) and that I met John Compton.
John and I had a bit of time to talk…. He started the company by tapping into memories of childhood & making ice cream with family.  Frostbite is a special product that is served at special events around St. Louis. He does special flavors with seasonal items like pumpkin being popular but I have to admit my favorite flavor in 2011 was bacon. Yes, you read that right, Frostbite has a bacon-flavored ice cream recipe! In 2012, my favorite was split. I liked the cinnamon (seems a good fall flavor too) but I have to tell ya, the Naked Chocolate was a winner too!
Here are a few things I find interesting about Frostbite:
John loves sourcing locally. He's been able to do several things with local sources and he loves talking with farmers. In fact, a local coffee roaster and a local brewery have both worked with John to develop flavors with their products!
It is lactose-free. Since John has a sensitivity to lactose, he had some trouble with the ice creams generally served in restaurants or sold in stores so he's making it with lactose-free milk. Too bad he hasn't found a local source on this, but he did talk to the Midwest Dairy peeps and Janet about it… shout if you know of a way to do it.
The business model. John's starting this business sounds like the kind of thing so many of us dream of doing. He really enjoys making ice cream and other people really enjoy eating it so the idea to make it a business came up. What's great is he's really living his dream. Working to make it happen. I love that! He's started with catering and special events with weekends being the bulk of it. Maybe one day he'll get it to a money-maker but in the meantime he's doing what he loves and he's making people happy. That's awesome!
Here is a short video of part of my conversation with John. I hope you enjoy it and that you have a chance to Get Frostbite too. If all this makes you think you need
homemade ice cream, well I have some recipes
for you from my friend Jill!
Related articles