In the next few weeks there are a few things going on that you really need to know about and act on now so you can get as much awesomeness as I expect to! So going chronologically you need to know about Show Me the Blog St. Louis #SMBSTL and Smalltown 140. Let me tell you why you need to know about these two events and why you should get to registering RIGHT NOW! Yes, I'm making an impassioned plea for two events I'm passionate about.
Show Me the Blog St. Louis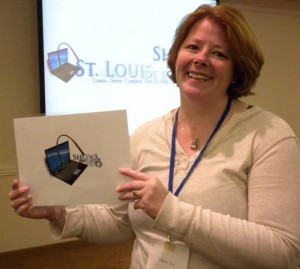 You may remember I moved to St. Louis just over a year ago. When I made the decision to make the big change of moving, one of the things I thought about was how important it would be to get out and meet people who I don't work with (I love the folks at work, but diversity is the spice of life right?). Blogging seems an obvious connection!
I had already thought about needing to meet folks I had talked to in #BlogChat — namely two awesome St. Louis bloggers Robyn Wright (@RobynsWorld) and Todd Jordan (@tojosan). And when I saw folks tweeting about Show Me the Blog (using the hashtag #SMBSTL), I decided this was the kind of event I could meet some folks with a similar passion of blogging. so got a
Wow! Did I meet some awesome people! (and someone took that photo of me) I also learned a lot more about blogging! And there are some sessions on other social media components as they connect to blogging too. It was during Show Me The Blog that I really started contemplating moving to self-hosted. I also got a great feeling for the types of bloggers who were in town!
This year, Show Me The Blog will be held in my new hometown of U City, October 19 – 20. Here are some of the awesome folks you can meet and topics you can learn about this year at Show Me the Blog:

And I am going to get to talk about "How to Deal With Your Critics" because as most people know, as you open yourself up to blogging and other social media, you have the potential to draw critics. I've worked with a number of controversial topics throughout my career in public relations (I'm currently working at Monsanto Company) and I know how bad it can feel to have someone take an unfair swipe at a blog post because they have a different opinion.
All of that should be enough to make you think you need to know more about getting registered RIGHT NOW! If you need another minute or two to think about it, look at the full two-day schedule and that should tip you over the edge. Let me know if you have questions!
When:  October 19-20, 2012
Where: Moonrise Hotel, University City, MO (St. Louis)
How Much:  $125 for both days, $75 for one
State of Now Smalltown

If you live in a small town or like me have a special place in your heart for small towns, the State of Now Small Town in Hutchison, Kansas on November 8 is the event for you. I went for the first time last year and I have to say, it was life-changing. It is a very different conference from Show Me the Blog so no need to pick between the two! It is  one of the State of Now / 140 conferences I have attended previously (several are linked at the end of this post). This conference is all about connecting people who love small towns and who have or want ideas on how to make small towns even better than they already are.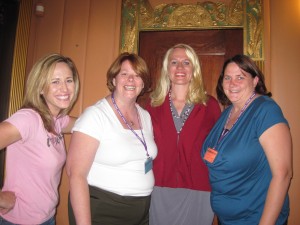 It's been about a year since my first State of Now — my first one was actually the Small Town conference, since then I've participated in one about Iowa, one focused on agriculture and one that cast a wide net and was held in NY. But I think the Small town conference remains near and dear to my heart for a couple of  reasons that tie together. The focus lets you get to something that everyone shares at the event — celebrating small towns and / or making them even more awesome than they already are. At the same time, there are so many pieces that come together in a small town… so in a day of presentations, you have the chance to think about all areas of small town life — agriculture, education, business, charity, etc.!
Keeping presentations to 10 minutes means a lot of people get to share their story. That gives you lots of ideas to take back to your small town, business, etc. And I have to tell you, with folks like  Becky McCray (@BeckyMcCray) from Hopeton, Oklahoma hosting (and she's talking about whether small towns have a future), you can guarantee you will be encouraged to join in the conversation. In fact, last year during lunch, I got to meet some incredible folks from Wichita. And it was meeting people in Hutchison and the conversations over the past month that have given me LOTS of ideas.
Here are some of the people and presentations I'm looking forward to visiting with this year, looking first at agriculturally related talks:
And this year I decided to put together a panel with some of the awesome women I have gotten to know through social media. We will be "Looking into the faceless 'Big Ag'" with Debbie Lyons-Blythe (@DebbieLB) – 30 miles from WalMart, in the Flint Hills, Kansas, Jodi Oleen (@JodiOleen) – Kansas and Carrie Mess (@DairyCarrie) – Johnson Creek, Wisconsin and me coming from St. Louis, Missouri!
There are lots of presentations that aren't about agriculture that also sound amazing! Check these out:
The organizers are so sure that friends of speakers coming will bring so much awesomeness to the event, that they are letting us offer you a discount code "FriendofST12"  that makes the ticket just $40 (that's $60 off tickets)! And last year my friend
Kim Ray Baldwin
brought a bunch of her students so I am sure pumped to see a special student rate again! So get on over to
the registration page for #Smalltown2012
if you still need convincing, check out the Twitter search for the #SmallTown2012 hashtag, see
the buzz on the SmallTown blog
, or look at the full schedule. There is so much awesomeness that I focused on the things that grabbed me but I'm looking forward to the full event!
Related Posts: