Last week I went to a meeting in Pennsylvania for work (I got to meet the farmer members & leaders of the Pennsylvania Farm Bureau). And we were in the Sweetest Place on Earth. With a place like that — Hershey, PA — the love of chocolate has been on my mind this week. And I will tell you right now, I am VERY thankful for chocolate!
As I work on mindfulness in my food, I have tried to cut back on the eating for pure enjoyment without nourishment. But chocolate. Well, I know I can't cut it out but I have been successful in cutting back, so that will just have to do!
What is it about chocolate that will make people like me so nuts about it? I mean, chocolate is one of those sweets that has a cult like following. For me, it is probably a collection of things:
For some of us, sugar was a major food group growing up.
Think about how smooth chocolate is…. dang, makes me want some now!
Whether you like it sweet or want a bit more oomph, that's something that can happen. 🙂
You can eat chocolate in a variety of candies — solo, with nuts, as part of a nougat… or my favorite way, as a part of my beloved Chocopoppo from Panache Chocolatier in Kansas City. In case you want my advice, go for the milk chocolate version even if you like dark chocolate usually. That sweet chocolate is a great compliment to the salty popcorn.
What about cake?!?! Pie?!?! Hot cocoa?!?!?! Ice cream?!?! And I even remember the chocolate beer at Niche!
Caffeine.
I love trying different chocolates when I am traveling around the world. They can be so yummy!
Antioxidants… that means eating chocolate can be healthy! (I know, that's easily overstated. Remember MODERATION!
America's Chocolate Center — Hershey, PA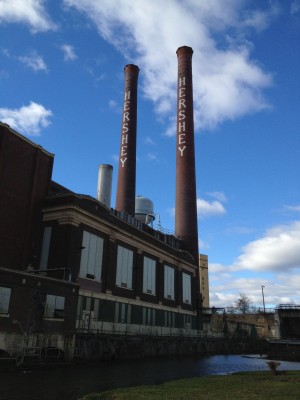 As a lifelong chocoholic, I think its interesting that last week was my first chance to really visit Hershey. Yes, I have been through there, but the trips were drive-thru really.
Since I stayed there a few days, and was actually in the Hershey Lodge, it was sort of a submersion program for chocolate lovers. There were reminders of all over the place! Seriously! Given a Hershey bar at the registration desk, Hershey's kiss prints on the sheets & wall paper, and so much more that I started snapping photos. The funniest one to me? The caution ribbon as they took an elevator out of service. Hope you enjoy the pictures!
Related articles