Last year, I never got around to putting up my Christmas tree. I had that long vacation visiting friends in Oregon & California and a bunch of other things going on, and just never found time. It has happened before, last year the only decorations I got out was the nativity set that I got when I was in Bethlehem.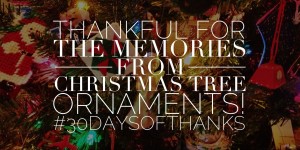 But this year, as I look at the need to be more thankful for the many blessings I have, this series of 30 posts of thanks was a clear way to shift my mind. I wanted to push it further too, so I have looked for ways to add more gratitude too. It was that mindset that prompted me to take action early to get my Christmas tree and nativity up early this year.
As I put up my Christmas tree, each ornament came with memories. See, our family's tradition is that we have ornaments we have made over time and with the travel we do, we also pick up unique ornaments. So…. here are some of the ornaments and the memories they brought up. Each ornament takes a moment of pause and reflection. Each ornament connects me to decades of holiday memories…. some were made decades ago.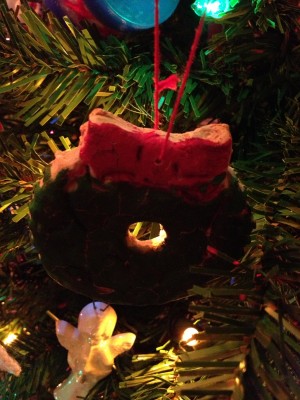 This wreath was something I made in Sunday school in second or third grad! We made them from bread dough and were so pleased with ourselves. My mom made me proud to put it on the tree. Years later I of course was less thrilled as I began to critique myself, but mom always focused on what I had done at the time and how nice she thought it was.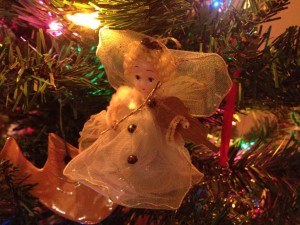 This is one of the oldest ornaments. It was one my mom gave me that was handed down. I wrap it gingerly and worry that someday the netting will disintegrate. It connects the three generations of us and I love the connections that brings.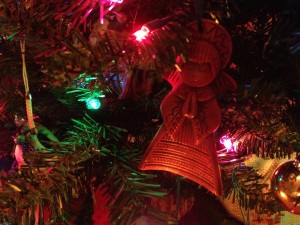 These angels were ornaments we made when one of my mom's cousins have a ceramics shop. Mom & Grandmom let all of us help with the painting & glazing. I guess we made some to give away one year as gifts…. amazingly, a long lost friend came through Memphis and brought it back asking my mom to pass along the memory that I had given it to him.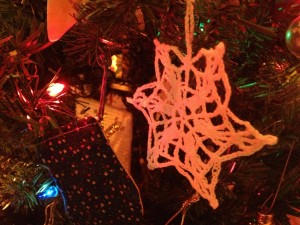 Crocheted snowflakes were something both of my grandmoms created. They are something that I look for the minute I open the ornament storage boxes! I love gingerly handling them and carefully putting them on the tree.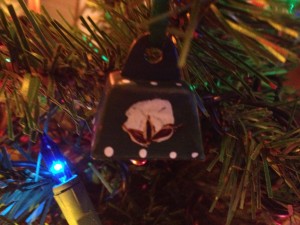 I have a few cotton Christmas tree ornaments. This is one half of a pair of Christmas bells my Grandmom got me when I was working in New York doing cotton PR. Those early days of my career were exciting for many reasons, one of which was how clear it was I had the support of my family. My trips and calls home were's as frequent but they were enthusiastic. Those years also were when I occasionally spent the holidays away from family. I could definitely do it and find some other adventures, but I did love getting home for the holidays. I still miss Grandmom, especially at the holidays. While I really wish she had seen what all our family would do over the past few years, knowing she would be proud of all of us, more than anything I wish my nieces and nephews had the chance to get to know her better. That would have been awesome! Still, I know we were very lucky having her for so long and getting to enjoy that time!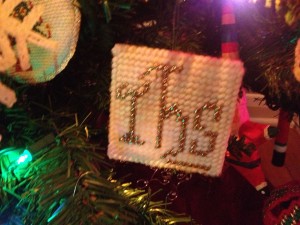 When I was growing up, each year there was a Chrismon event at church. We would hang symbols of Christ on the tree. Several years later my mom made us versions of the ornaments, providing pause for thought.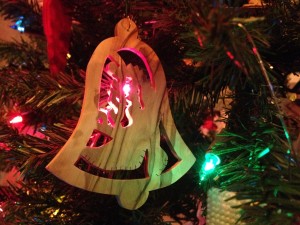 One of my big trips in the last few years was a pilgrimage to Israel. This bell, featuring a dove carved out of olive wood, was purchased during a short visit to Bethlehem. To go to the churches that sit on the land that legends say is where Jesus was born…. well that was pretty awe-inspiring. I regularly think about the Cathedral of the Nativity as well as all the other major religious sites in Israel.
Related articles