When you drive around the South, you get used to seeing homes surrounded by a few pecan trees. It isn't that every house has pecan trees or anything, but you see it often enough that it is pretty normal, especially when you get into more rural areas where people are living on the farm. My mom grew up with a pecan tree out back and it's pretty common to see people picking up pecans in the late fall and winter.
Pecans are native to the Southern U.S. and northern Mexico. Which is part of the reason they are in such high demand in places like Europe where my friend Kelly craves pecans drastically! And her parents managed the pecan ranch in Oklahoma when she & I were in college.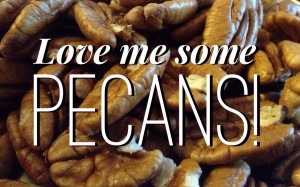 We love pralines, pecan pies, sweet potatoes with pecans on top instead of marshmallows, pecans in brownies or fudge, salads with pecans in them and pecans in our cinnamon rolls! They are the nuts we have all around us. Sure I eat my fair share of almonds and pistachios now, but pecans go back in my family's diet for generations. And they figured fairly prominently in my visit to the Delta this week.
Pronounced Pacon or Peekan?
I have to get this out of the way…. it seems the biggest debate over the beloved pecan is how to pronounce it! I really don't care how others say the word but I use something close to "pacon." You can listen to the way I say it in this video on how to pronounce pecan LOL!
Heaton Pecans in Lyon, MS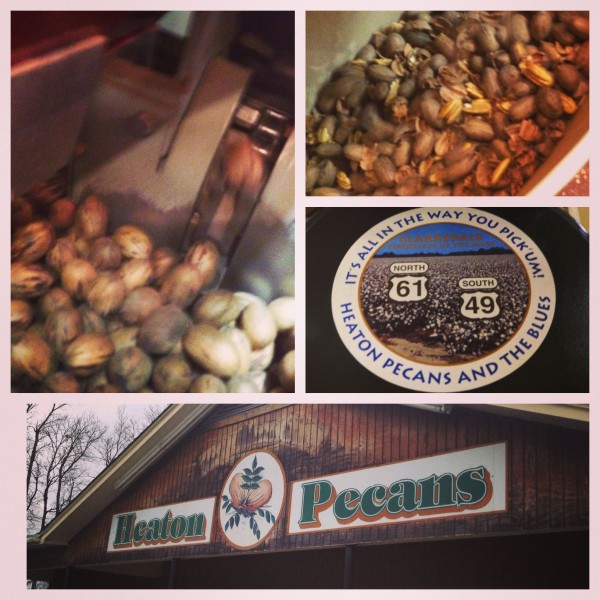 The first stop (other than quick photography shooting) was just off Highway 61 in Lyon, MS for Heaton Pecans. Having been friends with a member of the Heaton family for longer than I can remember, it was a store front that I would go to regularly when I lived in the Delta. You know with Heaton's you will get the freshest possible product and that once the new crop is sold, that's it.
The Heaton family brings in pecans to the store and offers them in several versions for customers. I have to admit, I prefer the roasted & salted pecans. They are so yummy! My nephew prefers the pralines. There are cinnamon and several other choices too. They are all yummy!
This time when I visited, I saw one of the folks working there had on a Deltapine hat (my favorite cotton seed brand) so I had to say hello — of course he was a Heaton. I asked if I could take a look into the room where the guys were shelling and he said sure. Was neat to see the different machines!
I also find myself buying cheese straws or one of the other local specialties the Heatons offer.
The other place I used to buy pecans somewhat frequently was in another Delta town — Indianola. It's aptly named the Indianola Pecan House and you can shop the website or the store front year-round.
Tri-Delta Pecan in Greenville, MS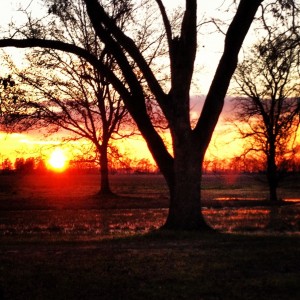 Several hours later, I was visiting with a dear friend in my former hometown of Benoit, MS and mentioned that I was thinking I should have bought more pecans. That's when she pointed out that a major pecan hub was just down the road!
And since we were on the backroads, I wondered how I had missed it all those years I lived there so I had to drive straight to Tri-Delta Pecans in Greenville, MS. When I got there, I realized I had noticed it many times but didn't know you could buy pecans there.  And as I drove up, I saw people selling pecans, not buying them. I sort of wondered. I also saw the most magnificent sunset through the pecan groves!
The guys working helped me pick out a bag of pecans and as they got them cracked and blown out to make them easy for mom and I to finish shelling, I took more sunset photos. And then one of the guys said I should check out a few of the warehouse sights. Check these out!
And then as I wrote this up and did a little research… I loved finding this video from the local Greenville station! It shows the head of Tri-Delta Pecans talking a bit about the way they serve as a purchase point for pecan growers across several Southern states. He also talks about how they grade the pecans.
Favorite Food Made with Pecans?
I have to ask… what favorite recipe comes to mind with pecans? I have a bunch so I'm not even sure I can decide!
[polldaddy poll=7678726]
Related articles