With a bit of time off for the holidays, I decided to take a quick trip down into the Delta. I've talked about some of the things that come to mind with "The Delta" before, but it is so hard to capture in words. That's certainly the feeling I got on Monday as I drove down for my first visit in years.
I can't believe I just typed that it had been years since I had visited the place that I called home for more than a decade. I haven't been back down since moving to St. Louis though and that has been a couple of years. And really, I'm pushed to remember visiting after I lived in Memphis very long. I know I went down a few times, taking photos and video, some of which ended up on the blog, but can't recall when.
What is "The Delta?"
I may have been getting ahead of myself. Having lived in the Mississippi Delta for a decade or so, its easy to think it's a well understood place. Yet, I have to admit that it's not a highly populated area and though it can be a place of legends for music and writing, legends don't always promote better understanding.
"The Delta" is really an alluvial floodplain. For centuries, the Mississippi River and the much smaller Yazoo River have flooded this low-lying area in the northwestern part of the state of Mississippi. It has been called "The Most Southern Place on Earth."  The Delta has incredible soils making the ground legendary for farming, especially cotton which is part of the reason the region gave birth to the blues.
You can see the difference in the geography on the map at right (pulled that from my iPad's maps function). The light green indicates it is a much lower elevation and you see it doesn't change much in that few hundred miles as you move south from Memphis to Vicksburg.
The Sense of Place is Immediate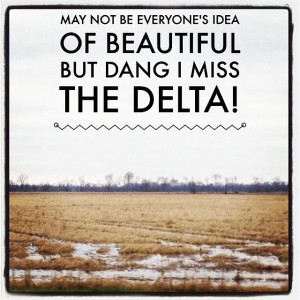 I remember years ago my nieces & nephew coming to visit and the girls relayed to me how quiet Ben was not long after they left Memphis. He was driving and the girls realized he wasn't talking at all for a while (I am sure this took some time as these girls are too much like me!) When they finally asked him, Ben just said "it's just so flat…. and there are no trees" (paraphrase based on memory).
That conversation came to mind Monday morning shortly after I had left Interstate 55 and had dropped into the Delta. It wasn't a few miles before I had to stop and take photos.
I just wanted to soak it up.
And then I wanted to capture it a bit and share it so I put a photo up on Instagram espousing how I miss the Delta. Yes, the photo is simply of a field of the stubble left after rice was harvested and water from recent rains.
There was no brass band. No celebrities. No tropical palm trees. It was the same sight I would see for days that turned to weeks and months. And in the winter, it tends to be gray. Not exactly everyone's idea of beautiful but it was clear! Dang I missed the Delta while I was gone!
While I was there, I soaked up a lot. Brushed some cobwebs out of my head too.
More on the Delta
I plan to write a bit more about the Delta and my trip down there. Some of the places I visited. Some of the foods that one simply must have. Some of the things that make it unique. But for now, I think I will call it a night. Get myself a bit of sleep. In the meantime, here are a few other posts I've written about the Delta you may enjoy:
Have you visited the Delta? Just thought about it? Never heard about it? Lived there? I'd love to hear your take on things!
Related articles