This past weekend, I went to North Carolina to see my niece Nikki graduate from college. (She totally rocked that cap and gown!) With vacation time after that visit, I decided I'd finally take my friend Jonathan Cavin up on his offer to check out his family farm in the far southwest corner of Virginia.
Getting to Cavin Farms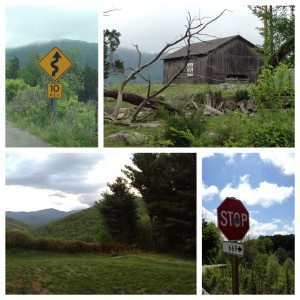 I have to say, the biggest delay in me getting to Cavin Farms (and lots of other friend's farms) is the location. To get to Cavin Farms, you have to get off the interstate and major highways for a while and since I'm not in that neck of the woods very often with time to kill, it took a while to find time to visit.
The drive through the Smokey Mountains and the Appalachian Mountains was gorgeous but getting to the farmtook some effort! I was winding around some backroads making hairpin curves! The caution signs told me to slow way down and I did.
Lunch on the Farm
One of the things about Cavin Farms that had an almost mythical quality before I got there was lunch. I can't begin to tell you how many times Jonathan has called, texted or tweeted me about some amazing meal his granny had cooked up for them. She cooks every day! So of course when I thought I could find time to go by, I knew I needed to be there for lunch!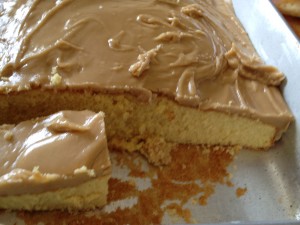 Somehow though I worked it out to be there for Sunday lunch! Even better, Mother's Day! That meant a bigger lunch than normal. Granny did not disappoint! But somehow I got in the kitchen without my phone so you'll just have to take my word for it.
I had homemade rolls, mac & cheese, mashed potatoes, green beans, baked beans, meatballs, fried chicken and the clincher? Caramel cake! That cake did drive me to go back and take a photo later! And I had to take photos of how many options were there! Wow.
Checking out the Farm
After lunch, Jonathan gave me a tour of the farm and the area they work. With all the hills and valleys, fields are kept really small unless it is hay and livestock cause those can go on some of the hillsides too.  I have to tell you, that this is one of those scenic areas where you think the grass is just naturally perfectly suited for cows to roam around! Of course Jonathan let me know they have to work at some of that natural beauty to make sure it is the right types of grasses for the cattle as some of the plants that grow naturally aren't good for the cattle.
Occasionally you see small flat fields or greenhouses on a level piece of land. Those are the areas where the Cavins grow produce and tobacco, crops the family has raised for generations. But I think I'll hold some of that for a second post cause I have a bunch of photos I want to share and this gets you started!
Find Cavin Farms
You can find Cavin Farms on Facebook or give Jonathan a shout on the @cavinfarms Twitter account.