This post was created as part of a campaign by Best Buy. I have been compensated for sharing my boombox experience (love music!) and some of the links/information in this article.
Not sure why, but I have always been a music person. Music and photography are the loves I have always spent money on in fact. Live music is my favorite, but I have always got music by my side.
I remember as a very young kid, having a radio that went with me all sorts of places…. at least until the batteries died. So when I started babysitting and all, I saved up for a boombox! I watched all the ads for a month of Sundays and when I had the money and the right boombox in my sights, I got my mom to take me over on Summer Avenue to Scott Appliance (this was long before Targets and Best Buys).
That first boombox — a typical '80s cassette featured in the center between speakers — was a game changer for me for a few reasons… it had an option to plug it in while I was at the house. That extended the hours of listening too! Usually radio but I had a few cassettes now and then. I'd even record on it now and then!
Flashbacks At The Mention of Boombox
When I saw an email from Best Buy about a sponsored post opportunity and it had boombox in the subject line, I HAD TO LOOK. And the photo immediate took me back to holding the cash, counting it again and talking with my mom about the ad in the paper. And then I saw the picture. I was pretty sure I would be writing about the days of a boombox even if I didn't selected for the campaign. The rush of memories had started afterall.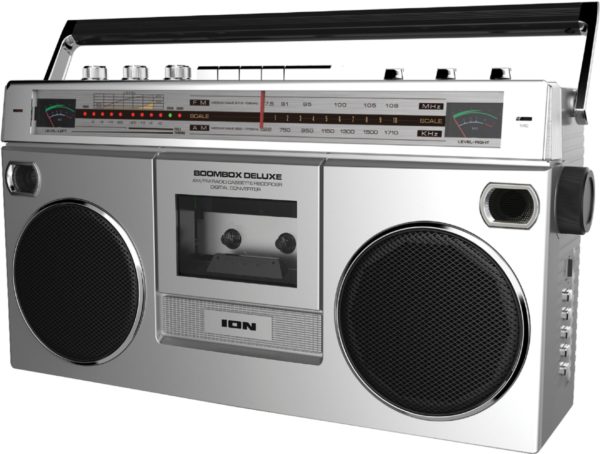 These days most of my music is digital but you can bet I still not only have vinyl but cassettes! Can you imagine the looks I'd get pulling out a boombox and a favorite mixtape I made for an old school roadtrip?
A box could be counted on to deliver:
Some pumping bass out of those speakers
The ability to play all the tapes I have
Record onto cassette from radio or the built-in mic
Well, that boombox pictured above — the ION Boombox Deluxe available via Best Buy online, is different then the one I had in several ways despite the fact it offers that killer 80's retro look.
Streams music via Bluetooth (so load up that phone with all the apps and playlists!)
Plug it in or take advantage of the rechargeable battery (last for 10 hours! What I wouldn't have given for that instead of D or C batteries!)
Records onto USB stick so you can archive your old cassettes
USB playback capability VU meters help adjust your recordings to ideal level
So basically, it's like the awesome boombox I had but upgraded to also do all the things I'd want in it now…. like listening to music on my phone with real speakers, bass, etc. And I can picture my friends and family hanging out with it.