For the past few months I have been thinking about how to refresh my blog some. I talked to a really great developer & designer a couple of months ago and started putting together notes of what I might want her to do. I can't tell yet whether it is a blog redesign or a blog refresh, but I know I want a change.
I've told a couple of the blogging buddies I confide in that this is a goal for me but I have been slow to get things done. It takes a good bit of work to refresh and it is a little intimidating to decide how you want to do it too. What do I really want to accomplish & how best to do it?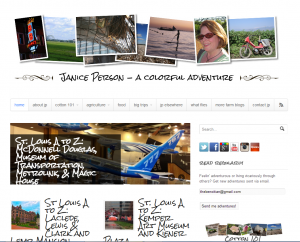 That's why when I got the email alerting me to a new post by #blogchat founder (& one of my super media heroes) Mack Collier asking if you "Want to have #BlogChat Review Your Blog?"
I swallowed hard, held my breath and blurted it all out in the comments section (typos be damned but when reposted to my site I had to fix a few LOL). And last night, Mack announced the blogs that got chosen and I'm on the list so we are moving forward with getting folks to weigh in on some of the things I want to do! Since I'd love your input too, I thought I'd post it here too!
by MACK COLLIER
Thanks to everyone that submitted their blog to be reviewed!  On Sunday we'll be reviewing 4 blogs during #Blogchat, one every 15 mins.
Here are the four blogs we'll be covering, and the order in which we'll be covering them:
1 – Janice Person – A Colorful Adventure.  Here's what Janice said about her blog: "It's a personal blog so it is where I can post whatever I want but one of my real drivers has been sharing information about agriculture that I'm lucky enough to see and experience first hand, especially things about my beloved cotton! Travel is another huge area of my life that I love sharing.

I have been thinking about doing some reworking on the design. It's amazing how fast designs feel dated. The site doesn't feel as clean as I would like. I don't want it to feel sterile, just get it a cleaner, more up-to-date feel and yet provide good mobility within the site. Some of the blogchat crew would be great at helping me think through a new look for the site.

Another thing I think the blogchat crew could help me understand is what sort of information would they find interesting about farming & agriculture? What do you think of things like the cotton 101 type of posts https://jploveslife.com/cotton-101/ or the various types of agriculture information https://jploveslife.com/category/agriculture/? of that content what grabs your attention & what makes you think "no thanks."

I know, that's a lot to ask, but why not shoot for the stars with the BlogChat crowd just in case I get picked!"
So, what do you think? As I think about it more, I am thinking maybe cleaner and yet more colorful is possible? Maybe there are different ways to highlight certain areas of content? Hmmm… I am really getting excited about adding to my ideas with the ideas of others. Feel free to start the ball rolling. What would help make my site more engaging?
Once you leave me some ideas, head over to Mack's post to see the other blogs that are being reviewed and what those bloggers are thinking!
Related articles