One of my nearby places definitely deserves to take the lead in the "D" category!
Delmar Loop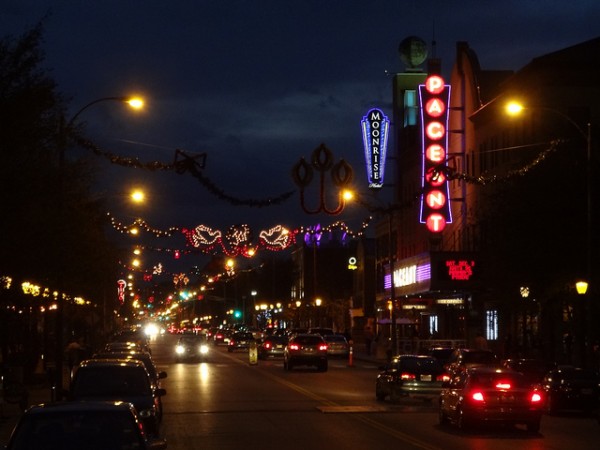 When I was looking for a neighborhood I would call my own, I had friends in St. Louis showing me around before I even had a realtor. I have to admit, the Delmar Loop grabbed me and helped sell me on the awesomeness of University City! I was trying to decide how to describe it and went to the Visit The Loop website. Seems they have a great way of describing it.
A vibrant six-block entertainment and shopping district with ten live music stages and an eclectic mix of retail and restaurants, The Loop is a place of rich history and energetic evolution. A brilliant success, The Loop now serves as a model for communities across the country. The American Planning Association recently named this thriving urban retail, arts and entertainment district "One of the 10 Great Streets in America."
So… before I go further let me explain (to the best of my knowledge) why a section of Delmar Boulevard is called the Delmar Loop. Well, from what I've heard, In the early days of suburbs of St. Louis, University City was the last stop on the trolly, so trolly cars would turn around in that area and head back into the city. Now it seems walking a few blocks and then doubling back is more likely the reason to loop back.
Some of My Favorite Places Along "The Loop"
There are lots of stores, restaurants, etc on The Loop and you can browse them all online. I haven't had a chance to go to all of them, but I've gone to some great places that I HIGHLY recommend! Here are some of my favorite places on the Delmar Loop. I'm pulling the info from the Loop's site and then will add my personal thoughts.
Other Ds in St. Louis You Should Know
Dogtown
There is a neighborhood in St. Louis called Dogtown. It's a traditionally Irish neighborhood… really working class with small homes and great bars! Yes, it is the place to go for St. Patrick's Day!
Dred Scott Case
I can remember being high up over the city in the Arch and seeing the courthouse below when someone mentioned Dred Scott. My mind immediately knew the case and yet I somehow had trouble remembering exactly what the case was about.
Scott was a slave who had lived with his wife as the servants to a couple that was fairly mobile. They had moved several times including living in states where slavery was illegal. The whole case was argued as a matter of property rights… it is hard to think of people as being considered property.
Dierberg's
Dierberg's is a grocery chain that not only started in St. Louis but continues to be among the top in the area. It started as a general merchantile in 1854! Wow! The store has changed a lot since then, but the company still has a location near its original store in Creve Couer near Olive & 270 and this is still home office for the 25 stores in this general area. Great food & folks.

More A to Z
The A to Z series about St. Louis will go on with hopefully six posts going up each week (everyday but Sunday) in April. Feel free to suggest topics for the upcoming letters or call me out for missing a critical piece on today's post. You can see what else in St. Louis gets a shoutout in the A to Z or check out last year's post for D in my A to Z of Agriculture as I talked about debt, especially thinking about how farmers incur debt on the farm. And you can browse a list of almost 2,000 bloggers doing their own A to Z Challenge.
Related articles