Do you remember when it seemed like everyone enjoyed art? You know, back before grades and competition got involved? When we could use paste and construction paper with a pair of scissors and crayons and come up with something that no matter how it looked, our parents would say how great it was?
LOVED those days!
And unlike some folks, I found a way to keep it going.
Before you assume I am one of those people who sits in meetings and draws various things, let me point out that I also remember things visually. So, if I am in a meeting and need to remember what we are talking about, I am taking notes!
Art: The Years of my Youth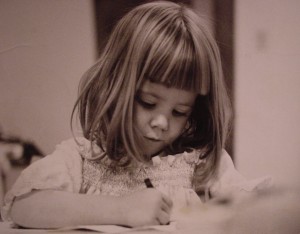 My progress moved from paste to photography when i was fairly young. And my mom and grandmom always had arts & crafts things we could do. I remember lots of Saturdays sitting in my grandmom's dining room, forming something from clay or painting something we had made.
I still remember that hip Kodak 110 that flipped open to stabilize the camera in my hands. I spent my allowance on film and then would save up to get pics developed.
In junior high, I played with pastels as I mentioned in my post about being thankful for teachers. And photography got more ambitious. I tried a little oil painting too.
The College Years & Art
By the time I got to college, my 35 mm camera was an extension of me…. I went everywhere with it.
I took an advertising art class as a non-major. It fit a lot with drafting classes from high school. And I took photography of course!
I took the painting class my college offered for people not majoring in art and LOVED IT and had so much fun with the painting professor (the beloved John Randolph I mention now & then but think of so often) that I wanted more art. I loved that finally we weren't all supposed to be doing similar things! We were encouraged to do things they way we saw them, and when we couldn't quite get it right, Randolph would coach is a while, maybe hold our hand to show us what he meant.
That's when I found my real painting stride. Not the finger or tempera painting of my childhood or oils which I never truly got the feel for but acrylics. I was hooked and wanted still more art!
At the same time, I knew that exhausted almost all of the arts classes for people who weren't majoring in it. That was crushing. That is until Randolph's eyebrows went big with an idea! He would create an "advanced problems in painting for non-majors" for me. I still don't know how we got that to work but I dabbled in more genres of art as I went forward.
Adults Can Do Art Too?
For a few years, I have to admit, my artwork was limited to photography, but man did I make the photos count! I went for more unique angles. Stretched my knowledge of aperture and shutter speeds and did all sorts of crazy things to get the "perfect" shot. (Yes, I know I still do this!)
But there were times when I forgot how much I enjoyed putting a brush to canvas or shaping clay with my hands. But once I got to Mississippi and had a little disposable income again, I picked it back up some.
That's where I really started playing with pottery again! Wow! So fun! And I had friends who were up for it too so we took classes together and all of us made vastly different pieces!
We painted some with great detail and others not so much detail painting but would use wild glazes.
And occasionally, I would buy some canvases and paint at home. Nothing to brag about, but something that shifts my mind into a more creative state.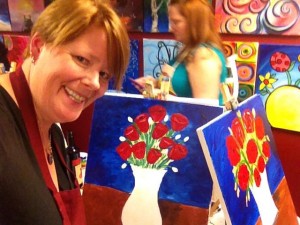 These days I play around with art here and there. Photography is a constant even if I only made it through 5 months or so on my 365 project, I rarely go a day without snapping a couple of photos. I still enjoy doing painting and pottery too — in fact, I did a fun project recently… tell me what you think!
And I think I need to find more time to play with art! Who's with me!?!?!
Related articles