Friday morning at 8 am Japan Standard Time, I woke up and got started on what I thought would be the start of a day that would involve 16 hours 33 minutes of flight and connection times. Accounting for time to get breakfast, ground travel to and from airports, etc., I figured I'd be home well within 24 hours. I have done this many times before and have come up with a few things that help me take these travel days without too many problems. But let's break this down on what was expected and what happened.
The Expected Travel Day
I woke up around 8 am, said hello to the family, headed for the shower, ate some breakfast and did my final packing. The morning at home would go quickly and we would be low-key cause we were sad about how long it would be before we'd see each other. We'd cross-check things, packed the car and headed for the train and a couple of errands en route. We were taking the train but to get all the luggage there, we'd load the car up and a couple would walk to the station while others drove down and waited with the luggage.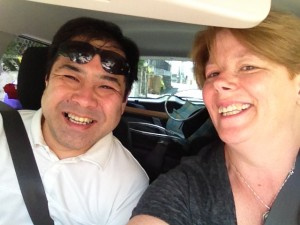 We'd change trains once and get to the airport 2-3 hours ahead of the flight. We'd check in, be sure we were fine on luggage, exchange the remaining yen into dollars, return the rental mobile phone and grab a bite to eat before Kazu and I would say goodbye to relatives, go through security and begin the 16-18 hours of flying time. Having made this trip several times, I had a plan of action that would help me adjust to the time changes, help me stay somewhat entertained and hydrated.
My Plan of Action
Planning for really long travel days comes way before the morning you start your travel.
Stay Awake vs Sleep Strategy — For me, as I booked my airline tickets, I made some of my first choices. Even picking your seats on the plane helps put some meat behind your plan. For me, I go with the stay awake strategy. Leaving Japan at 4 pm means I will have daylight on my side until I am supposed to get home. The tough part is the flight from Japan to the US because flight attendants darken the cabin except when they are moving around doing some kind of service and most everyone else prefers the sleep strategy so window shades tend to stay closed. With all of that in mind, I choose the aisle so I can get up and move around. Lots of others choose window seats where they can lean on the window to sleep.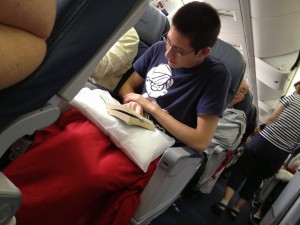 Paying for Space — I have to admit I've gotten totally used to the free upgrades a frequent traveler gets but I'm not nearly frequent enough of a traveler to get international upgrades. I'd love to be independently wealthy and be able to buy business class tickets without batting an eye but for me, I'd prefer to take two trips rather than spend so much on one set of tickets. To get more comfortable seats, just a bit more room, I also swing for economy comfort seats — that's an area of Delta flights that gives coach passengers a few more inches legroom on the plane. I did this first when I went to Israel and it was worth it. This time I upgraded myself and my nephew so we could enjoy the extra space and get to the front of the customs line on our short connection. At 6 foot or so, my nephew thought the extra inches were a god-send! 

Stay Hydrated — I've talked about it before, but I carry my water bottle with me almost everywhere but seriously, flying for 10 hours or so in such cold dry air totally dries a body out. Flight attendants and airlines understand this so they walk through with water pretty often, but I have to say, having water within reach all the time is better. The flight attendants are great about refilling my bottle for me too!
Carry Some Snacks — Sure, there is food service on flight's that last for hours on end, but they can leave something to be desired. Having something filling in your carry-on bag that you know you like and that can be filling for you, is good planning to say the least. And sure, you may not eat it but you may be really hungry and thrilled you have it on-hand. I usually throw in almonds and something else that can take the beating my backpack is likely to give it.
Prepare to Entertain Yourself — I love movies and TV so the personal video screens are a great way for me to pass time. But 10 hours straight may be a bit much even for a media junkie like me so I had my trip journal close at hand as well as several books in the kindle app and my big iPod. Having noise-cancelling headphones helps me block out other things that are going on around me.
Pack your toothbrush & a Change of Clothes in Your Carry-on — Toothbrush is simple. Brushing your teeth makes you feel human as does a change of clothes. This is especially true if you don't leave just after a shower. Knowing we'd be out and about for several hours before getting on the plane, I decided to carry jeans to put on once I got cold.
My Travel Day Didn't Go as Planned
To say the travel day didn't go as planned is an understatement. My trip over had been a totally uneventful 17 hours or so. I found the train to the hotel without any problem and I was having dinner with my nephew before I knew it. We weren't so lucky on the way home and had bumps all along the way it seems. It started not long after we got along the way and before my trip was done, my trip home took me about 40 hours from door-to-door.
So what went wrong? Here's just a few things:
Lost one of our Group — As I mentioned, we went to the train station in waves. Hisaaki drove me to the station and left me with all the luggage when he went to park the car. Kazu & obaachan (my nephew Kazu's paternal grandmom) walked and soon the three of us went into the station to wait for Hisaaki to join us. We made a short errand run into a store & as we waited for Hisaaki, we began to worry. It really worried us when he didn't answer his phone and after a while, it was decided to go without him. Leaving for the airport without a proper goodbye to a close family member was not something any of us took lightly but we also knew timing and finally had to leave. We were later thrilled to find him waiting for us at the station where we needed to change trains! 
Not much Time to Visit at the Airport — We had thought we would be there really early and have a chance to do our errands and get lunch. But the trains took longer than expected and with the earlier delay, we were behind schedule pretty bad. Obaachan returned the mobile phone while Kazu & I got all checked in (we were thrilled to find we could indeed check the climbing sticks from Mt Fuji since I insisted we at least try). We had time for a snack at Starbucks in the lobby and to exchange the remaining yen into dollars and then we needed to say goodbye. The meals were less than great which made us both really thankful I had packed a decent snack. On the way over I had barely even opened the almonds I had in my bag.
Short connection in Seattle for customs — We knew going in that we had tight connections in Seattle. Kazu had about 15 minutes longer than me but the last time through Seattle he had trouble making his flight so both of us were nervous. The delays with Kazu's bags really wore on. The climbing sticks took forever and then the guy at oversize luggage was snarky about why we'd bother checking sticks that were made in China. I was a little snarky replying that they represented walking all the way to the top of Mt Fuji and that made them experientially valuable. He quickly apologized and made sure we knew exactly where to head next. Of course, we got tagged for the random inspection though and the inspectors took a while checking some Japanese snacks we were bringing home. By the time we were waiting in the really long line to go back through security, Delta had changed my flight knowing I would be missing the original connection to Minneapolis. I thought it was a great change though cause I could travel on with Kazu and simply make my final connection in Detroit. I was wrong. I'm going to find out if my purchasing tickets would let all our bags go under my sky priority benefit in the future. Luckily the Detroit flight was delayed so we made it.
Mechanical Delays Extend My Connection Time — When we got off the plane, I made sure Kazu knew where his connecting gate was and I started running to get to mine. Next set of screens I saw told me to slow down. The flight was delayed a couple of hours. Decided despite being tired, I probably needed a decent meal anyway so I stopped at a pub to grab grub. An hour or so later I headed to the gate, plugged in my phone and looked at the monitor. It was still there. Thirty minutes later it wasn't though.
Flight Cancellation Means An Overnight in Detroit — About the time my nephew landed in his hometown and found out his luggage hadn't made the connection, I found out my flight was cancelled. Exhaustion washed over me as I asked the agent who said it just happened. She got me on a flight for Saturday morning, got me a decent hotel (a pilot confirmed I was going to the right place) and I headed for the shuttle that would take forever and be absolutely packed with other folks who like me had thought they'd be going home but were suddenly staying over. You can't imagine how thrilled I was to have the toothbrush, clean t-shirt & undies to put on after a shower!
An Extra Flight For Good Measure — I didn't realize until Saturday morning when I'd gotten up really early to go back to the airport that I'd be making a connection. I looked for the 7:30 flight to St Louis and saw none. That's when I looked at the detail on my reroute…. I had to fly to Minneapolis! That didn't make sense but the later direct flight was booked so I'd have to go standby. Argh.
Rolling with the Punches
The biggest thing to remember as you have set backs like this on a neverending travel day is that losing your cool won't help. All the planning I did helped, but it was probably most important to remember you may not choose what happens to you but you can choose how you react to whatever happens. I tried to keep my sense of humor and roll with the punches but it wasn't til I was on the last leg of the trip and someone asked if they could move my carry-on. I said "sure, as long as you don't move it really far away" with a smile. He laughed and said "how can you be so happy this early in the morning?" and I said "I had 15 hours added to a 24 hour travel day but this is the last leg of my trip!"
And by rolling with the punches I didn't let a series of unimportant mishaps detract from two weeks of incredible travel with my nephew in the land of his other ancestors. I already wrote a couple of posts about the trip — one on the tanabata festival and another on grocery stores & food in Japan. In the next few weeks, I'll be sharing some of our adventures and will keep them connected with the Japan2013 tag…. They are a lot more fun than the travel home, but it is good to be home!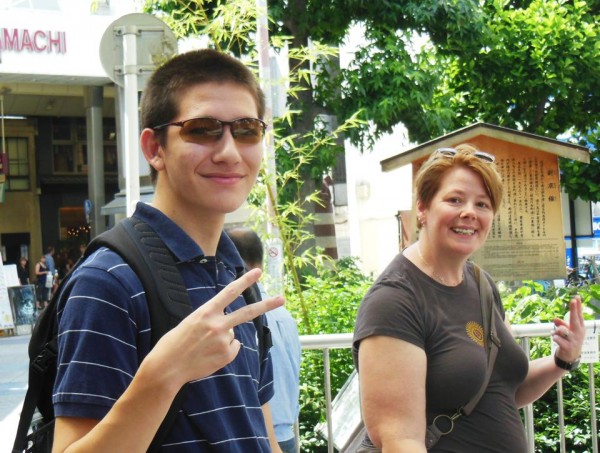 Related articles