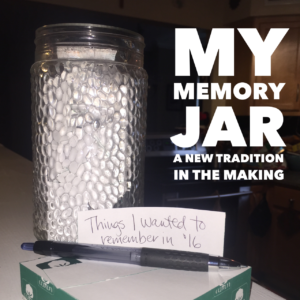 A couple of years ago, my cousin Jon-Eric shared that he makes a memory jar each year by jotting down notes and placing them in a jar. It's a chance to capture the positive things — small moments alongside the big ones. Evenings pent laughing with friends over a burger or a chance venture to the zoo. Times when rather than let bad news derail me, I found a way to keep going on the path I had chosen before adversity struck.
Last night as I looked through the various notes in the 2017 jar, I smiled frequently thinking of times with family, great meals that I had as I traveled and the business accomplishments I had. Some of them have been shared here at various points of the year, but many were only captured on the note or left to the stack of ideas that I will someday write about.
Here's a video…. would love to know which things pop out at you!
Highlights from 2017 for Me
Part of what I love about this is you never know what will jump out at you months later. Here were some of the notes that particularly grabbed my mindshare:
Dinners with dear friends and family! I am already looking forward to a 2018 trip to the Flying Fish with my Memphis peeps for crawfish! Meeting up with Davis, Shannon, Kayley and little Charlotte in Oakland for dinner was one I had early — so nice to finally meet Charlotte! Sushi in Memphis with the Walker fam, Brother Juniper with the dear nephew…. there were holidays with my Turkish family and more.
Visits by and with dear friends! Long-time friend April came to visit and we relived our NY days (and she brought me meat from her farm!) My niece came to spend part of her summer with me and we had an amazing time pursuing her love of horse and simply goofing off! I had the chance to visit friends and family in Memphis, North Carolina, Texas and Ohio plus so many more locations. Farm friends met me as I traveled for work time and time again. And I won't soon forget the Thanksgiving fun of foos ball!
Experiences and travel that are unique. Finding a great taco place in Phoenix (Mucha Lucha). I was one of millions of women who marched to have our voices heard. While I was traveling for work, I decided to stay for several days vacation! Ended up dear friends from the south were there and we took in dinner, shows and more! I visited friends, took in the sights (really loved the Tenement Museum!) and more! There was a trip to Cancun that let me snorkel and swim to a woman who needed help. We had a great girls weekend with the sisters and more! I spent a weekend preparing for the eclipse and enjoyed it fully. And I can't forget a month without travel!
Accomplishments in communications (both personal and professional!) Several things jumped levels building on previous efforts! The blog finally has a logo and a shop of shirts, etc so others can show the love of cotton! I was once again named a Top Writer by Quora and with that I got published on the Forbes website talking about autumn trips to the farm and some of the things people hear about GMOs as well as Huffington Post on not testing Russian customs agents and agritourism.
Presentations for work for a wide range of groups including the Log On Conference in Oregon, the American Farm Bureau and some of the states too, AgChat's Collegiate Conference we hosted in St. Louis. I shared my love of cotton with people who traveled to Cotton Inc to learn more. And I went to Montana and Oregon for more meetings! Even served on panels about food in San Francisco and Memphis! And various tours on farms and of the St Louis facilities were great fun (even with the bees!)! It was a first to have family in the audience and yet, that happened several times as my sister Cheryl saw me speak to seed customers, mom attended a local farm bureau meeting and my sister Leslie, dear nephew and niece all came to the Memphis food event.
I can not wait to see what 2018 brings!
I am already ready for 2018. This year thanks to a friend's suggestion I will add small mementos as well! And I'm thinking about labeling the past two year's bottles filled of memories!