This past year was a great one for both me and my blog, mainly because the blog is a personal one I guess. 😉  I have had a lot going on and I have shared a lot of it here on the blog. As I wrote this, I really enjoyed reviewing 2012. So while most of you may scan through it and pick and choose what you read based on things that you may have missed or really enjoyed, the process was a great one for me to go through as we ring in the New Year.
The Top 12 Posts by the Numbers
Stand-Outs for Me
What stands out for me when I think about 2012? Several things that didn't show up in the stats — so frequently the case. So let me run through a few big buckets:
Personal Accomplishment
I started off 2012 making a meaningful resolution which was a bit different for me. The post talked about how I was working on my health, with a focus on my weight. It has largely been a personal journey, with many friends and family encouraging me along. I've updated folks on progress a couple of times — giving a mid-year review and pointing out some of the weight loss tools I'm using. I've been really successful in losing weight in a slow and steady way which tends to provide people a greater chance of keeping the weight off. I feel great and have found a pretty good rhythm most of the time (though some travel is challenging and I need to exercise more). Although I still have a good bit of progress to make, I was getting large t-shirts at Christmas time instead of the XXL t-shirts I was wearing last year. That feels awesome!
Social Media
I have had a good year in terms of social media too. The biggest accomplishment here is probably putting more real names, faces and voices to the people in the community I have here on the blog as well as on Facebook and Twitter. It is so easy to move a conversation along once you know a person beyond 140 characters! These meet-ups happened in various ways — attending meetings through work, personal travel, social media conferences and more.
This year was also the year that I jumped into the world of self-hosting my blog! That was definitely a move that changed things and while I've had a few bumps along the way, I have really enjoyed the move and think that the tools available to me through self-hosting are helping me build this blog. I have more plans for the coming year too starting off quickly with a 365 project that will chronicle some of the many faces and places I get to see in 2013.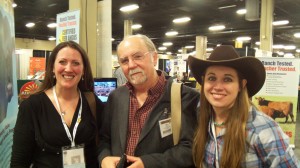 Several of the events or milestones are captured and shared in various posts that follow and more ways than one.
Travel
I have had some incredible travel experiences this year and have learned so much at the same time! Friends I've met through agriculture and social media welcomed me into their homes and showed me around their farms and ranches. I've written up some of those trips and am continuing to write them up but I have to say, the indelible marks on my heart are much greater than the blog posts I've written and photos I've shared but the blog posts help share the experiences. So the travel experiences that stand out in 2012 include:
Hawaii — What a way to start a New Year! I went for work and was able to take a few days vacation while I was there too. The vacation came first! I had the chance to see my favorite fiber growing in a tropical location — yep, during vacation on the Big Island, I came across a cotton plant in Hawaii! We stumbled on some of the best fish tacos this world will ever know thanks to a food truck a park ranger pointed us to. Another great meal came once I had gone to Honolulu to get started with the Farm Bureau meeting… it was at well-known chef Alan Wong's The Pineapple Room and I had met the farmer who had grown the greens for my salad. Some of the work posts you may enjoy seeing too — they were posted to the Farm Bureau blog or Monsanto's Beyond the Rows.

Aloha From Hawaii Farm Bureau President Dean Okimoto
One Farmer's Reaction to the #AFBF12 Opening General Session
New Tool Available to Measure On-Farm Sustainability
Opening the General Session with a Closer

New York with my nephew! — The fact that I had the foresight to give nieces and nephews a trip for their 16th birthdays that we get to enjoy together still reaps dividends. The trip was a great chance to see a city that I love with one of the great people I love. Having had years where the Empire State Building was on the horizon, it was especially nice that Kazu picked New York. We had lots of time to see the sights, talk about things that matter to us, let travel teach us all sorts of things and enjoy quite a few great meals! We saw the Manhattan Skyline and the Statue of Liberty from the Water and I even admitted that I was Changing Ideas on When People "Get Old" and the Sexes

North Dakota — Having never been to North Dakota, I can say I have checked that one off my list. And not just once, I went three times this year! Not sure what I was waiting on, but I have to say, the experience was awesome. I've shared several stories on the trips, the titles/links follow:
California — Thanksgiving vacation was a real change of pace for me this year — I flew into Portland, Oregon and began a series of adventures by staying with a college friend. In just over a week of vacation, I was able to visit friends in lots of different places and see so many different sights that I'm still reminding myself of things I need to write up…. and I've written lots already! 
What a year!
Looking through all of this, I am truly thankful that I decided to capture things as they happen. Sure I miss some really great things during the year, but the blog provides a great touch point throughout the year. And getting started with the 365 project, capturing faces and places I get to in 2013 will help round things out some more! I've signed up for the official challenge at http://365project.org/jplovescotton and will share them on my Google+ stream as well. Thanks to a tip from Judi Graff aka FARMnWIFE I am considering using the Photo Journal App on my iPhone to periodically make them into videos. We will definitely see what 2013 brings in photos here on the blog!
What can I do better?
I love constructive feedback so I didn't want to close this post without asking what you think I can do to improve things. Please feel free to leave your suggestions in the comments or if you'd prefer your suggestion be kept private, you can put it in this form which will mail me the message.
[contact-form][contact-field label='Name' type='name' required='1'/][contact-field label='Email' type='email' required='1'/][contact-field label='Website' type='url'/][contact-field label='Suggestion for 2013′ type='textarea' required='1'/][/contact-form]
Related articles